Lior Skaler – Global Wealth Trade Top Earner Interview
December 1, 2013
By Team Business For Home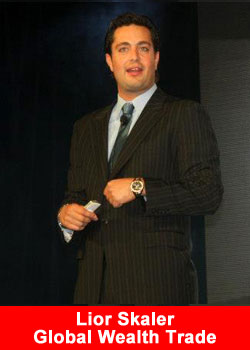 Lior Skaler from Toronto, Canada is one of Global Wealth Trade's Top Earners who is in his first MLM and lives both in Canada as in the USA.
After earning over $15,000 in his first 3 months in 2008, Lior walked away from his 70 hour per week JOB to build his MLM business full-time.
Lior opened the USA market from Canada and has a team of 2,500+ in 32 countries around the world including Canada, USA, Jamaica, Israel, Russia, Europe, and more.
Ted Nuyten had the honor to interview Lior Skaler.

Lior, why do they call you the James Bond of Network Marketing?
That is a funny question Ted 🙂 The people who follow me on Facebook or Instagram or Twitter see that Network marketing has allowed me to live a pretty incredible lifestyle. In my opinion, there is no business in the world that can give you the lifestyle that MLM can give you not only financially, but because of the time freedom.
Time is the most valuable asset we have and once it's gone, you don't get it back. You can see photos of me playing in the World Series of Poker in Las Vegas, racing Formula 1000 race cars, flying fighter jet planes in Russia and Sky Diving in Canada. You can also see me climbing inside the Pyramids in Egypt one day, skiing in the French Alps the next day, floating in the Dead Sea in Israel, scuba diving off the Greek Islands, exploring the fortress in the Desert in Petra Jordan, traveling around Italy and pictures from the top of the Eiffel Tower in Paris.
From Celebrity parties on Star Island in Miami Beach where Oprah has a home to having fun on a Yacht with you Ted in Canada to working on my laptop on some of the most beautiful Beaches of the world to feeding homeless people on the streets of Orlando during Thanksgiving to simply reading a book in a park on a Monday. I am grateful to have been able to experience the world and live many of my dreams. There are so many things to experience and we have such a short time on this planet that I take every chance I get to live full out and I am having a blast living my life. I think I inspire people to believe and to fight for their dreams and to enjoy their lives and really Ted, who wouldn't want to live the James Bond lifestyle? 🙂
Team Lior Skaler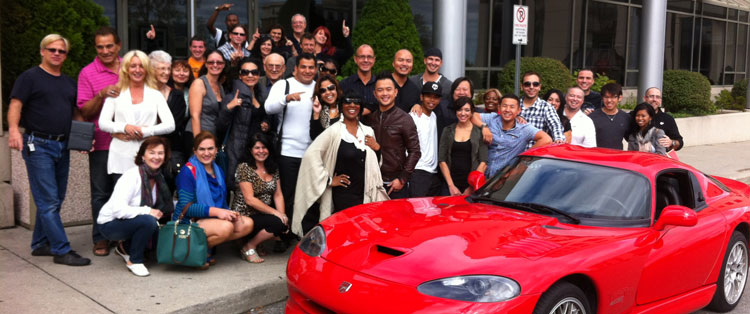 How did you got involved into the MLM Industry, who invited you and why did you accepted the invite?
As you mentioned Ted, Global Wealth Trade is my first MLM. Like most people I was not happy in my job working 70 hours a week. I was self-employed and what that means is instead of someone else hiring you to be an employee, you hire yourself. I remember when I couldn't wait for the weekend to come fast enough. Couldn't stand that feeling.
Felt like I was wasting my life being miserable. Felt like I sold my soul. So I decided to do something about it. I started to educate myself on how I can have more time to enjoy life and I found a book called Rich Dad Poor Dad by Robert Kiyosaki. That was when I heard about the concept of passive residual income for the first time which is the same system the wealthiest people in the world use to give themselves more time.
Shortly after reading the book, an acquaintance shared with me that there was a Canadian Designer Fashion House that paid people to wear and promote designer products. I was not a designer guy and didn't even have a watch but what mattered to me was that 90% of the world wears jewelry, watches, wallets, handbags, gloves, gold, diamonds, sunglasses and the company had plans to release shoes, clothes, cologne, perfume and other designer products which everyone wants and enjoys.
People in the company were making good money and having fun and were able to quit their JOBs and I wanted that so reluctantly I said sure I will take a look at what this is all about. 90 days later I quit my JOB and have been a full-time networker with GWT since. Best decision of my life thus far 🙂
What was your first impression about the MLM industry?
After seeing the GWT online video Tour, there was one slide that I still remember which said if you have this many people in your team, you will make this much money every week in passive residual income. I remember sitting there thinking to myself, this is too good to be true! All I have to do is show people this video and once people get started, every time they buy or sell products I will make money automatically week after week without having to put in any effort? Could this be real?
They then introduced me to many people who started part-time while working their full-time JOB and got to the point where they didn't have to work anymore and were living their dreams. I was impressed and these people had the lifestyles that I wanted. I was also fortunate to meet the CEO/Founder of the company Mr. Ramin Mesgarlou who I now consider a good friend and mentor and who has been in the Profession for almost 25 years, 14 years in the field as a Distributor of which 12 years were full-time. He built teams of 100,000 people, mentored over 15 Millionaires and made Millions of dollars himself.
It was the first time I had met this man but after listening to how he wanted to help many people to be financially free and that his reason for creating Global Wealth Trade was to put his son on the cover of Forbes Magazine at the age of 25 as the world's youngest Billionaire, I knew that he had a long-term vision for the company and that his heart was in the right place.
I also learned that he created the Profession's first generic training system called the Forensic Networker which I could use to build my business. I was hesitant because I wasn't sure if it was going to work for me but they told me that they would support me and they seemed very genuine and I trusted them so I got started and started to see results quickly.
With mentor Ramin Mesgalou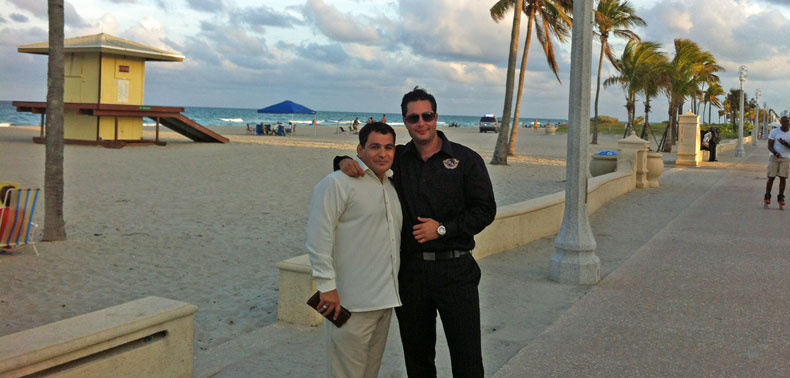 What is the one thing that has contributed the most to you attaining the level of success that you have thus far?
There are many things Ted that have contributed to my success so it's not easy to choose one. There are two things that are tied for first place and they are mindset and genuinely caring about people. At the age of 16 I heard some material from a personal development legend named Tony Robbins.
I had never heard someone so positive and motivational and he slowly started to program my mind for success. For over 15 years now I have learned from Tony, Jim Rohn, Les Brown, Zig Ziglar, Ramin Mesgarlou and many others. I have attended numerous personal development seminars and courses. I constantly read books that elevate my thinking. I visualize, I think positively, and I inspire others to be the best that they can be. I have trained my mind to be so strong that nobody can ever stop me from being successful and from doing what I want to do.
I train my team daily in personal development by posting motivational and inspirational pictures and thoughts on Facebook, Instagram and Twitter. I also conduct weekly webinars on different personal development topics and when you speak to my leaders, they are all trained to be positive and powerful. Nothing can stop them from being successful and I am proud of them all. I am currently writing a book and creating programs that will change the way that people think about themselves and the world so that they can be the best that they can be in all areas of life.
I genuinely care about people and I see people as more powerful than they sometimes see themselves. If you ask the people on my team they will tell you that I don't allow people to be any less than the greatest version of themselves. My purpose in life is to help people live lives that they love and I do that by making sure that I live a life that I love and by genuinely caring about other people. As the late great Zig Ziglar said, help enough people get what they want and you will automatically get what you want. The only thing that matters to me Ted is that the people in my team live an incredible lifestyle, are happy, and are able to spend more time with the people they love.
Why did you choose for Global Wealth Trade?
That's easy Ted, it was the first company I saw in MLM 🙂 But that's not why I am still here 5 years later. I am still with GWT because I have learned that if you don't know how to read a distributor compensation plan than you are in trouble in your Network Marketing business. After researching almost 50 companies, I could not find another compensation plan that had the least amount of restrictions so that the average person like me can make $10,000 per month.
You can see the research here Comp Plan Comparisons. My team has grown to over 2500 people in over 32 countries. Now, a team of 2500 people seems low for a top earner until you understand GWT's astronomical E/D ratio (earning per distributor ratio). Businessforhome.org previously has featured articles regarding GWT's E/D ratio which is about 600% higher than the industry average. The result is approximately 500 – 700 active LCs will get you to the FIVE FIGURE CLUB which is an income of $10,000/month. We even created a video that talks about how GWT removed the pitfalls to making money in this video Pitfalls in Compensation Plans.
Every company has a few people making good money but I wanted to be with a company where anybody from any country no matter how young or old can make $10,000 per month. What I love about the GWT designer product lines is that they are VISUAL and exciting and self promoting, in other words they are WANT products vs other companies where you need to sell NEED products that nobody wants. Every day I hear part-time LCs (Luxury Consultants) in my team earning thousands of dollars in retail profits which generates CV and of course CV turns into weekly commissions. When my team makes money, they stay in the business and for this reason GWT has a distributor retention ration that is 440% higher than the DSA averages and for builders like me that represents longevity and long-term residual income. I have never seen anything like it Ted.
Aside from this, the CEO/Founder Ramin Mesgarlou along with all the other people I work with are one big family. I constantly help people who are not in my team and who I do not benefit from knowing that the people in my team are also being helped by others who do not benefit from them. Our culture is no member left behind and either everybody wins, or nobody wins. Who wouldn't love working with such a great group of people? I can go on and on Ted why I chose this company but again, at the end of the day, it's about putting money in people's pockets and that is something that this company does better than any other company that I have researched. I recommend people to take a look at the 25 reasons GWT's products are the best in MLM video as a starting point.
With Chris and Josephine Gross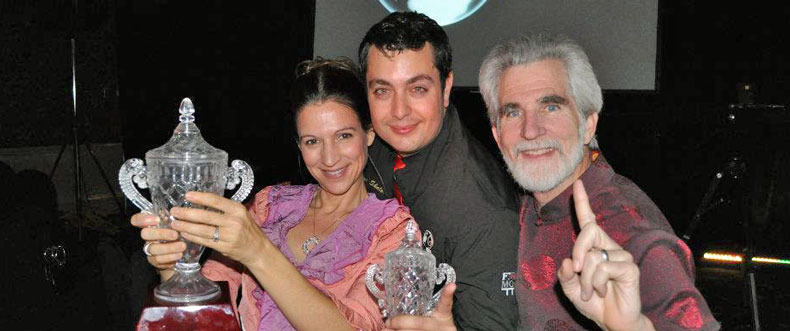 Do you have a tip for a Newbiein MLM?
Every great leader was once a great student Ted. Network Marketing is a profession just like a Doctor or a Lawyer. To be successful, you have to learn certain skills and then practice them. When I got started I asked my upline what should I do? They said your only job is to be coachable and to be a good student and to ask lots of questions and follow the system. In Network Marketing you earn while you learn. So that's what I did.
If they told me to do something, even if I didn't understand why, even if it didn't make sense to me, even if I didn't want to do it, I did it anyway. And because of that I earned $3,500 working 5 hours a week in my first 30 days. Since listening and learning were working well for me, I kept doing that and earned around $15,000 in my first 90 days.
That's when I was confused as to why I was still working 70 hours a week in my JOB and decided that I would stop doing that and become a full-time Professional Networker. I have been with one and only one company since I started in MLM and Ted, I haven't had a job in the last 5 years and I never will again and I owe it all to being a good student and developing the skills I needed to be successful.
When someone new joins my team, I work very closely with them for the first 30 days to ensure they know what skills they need to learn to be successful. I have been blessed with great mentors and have over 30 years of MLM knowledge from them and from the books that I've read and from my experience and I share this knowledge by conducting weekly training and accountability calls. I also have over 60 videos on my Youtube Channel where people learn how simple it is to build their business.
How has your life changed through your success in network marketing?
I had the courage to start a home based business and now instead of a one week vacation every year, every day feels like a vacation because I don't have a boss telling me what I can and can't do. Nobody telling me what I'm worth. Nobody insulting my intelligence by giving me work that a monkey can do and making me feel that I am important for doing it.
Ted I am extremely grateful that I never have to feel that way again. There is no better feeling than to have freedom and to own my life. I am blessed to have met mentors who gave me the knowledge I needed to get to this point. I am blessed to have read books that taught me how to be a better person. I am blessed to have business partners and a team who inspire me with their hard work, attitude and their love of helping people. I am blessed that the Universe gives me everything that I attract into my life.
I am blessed that one day I will be married with children and when that day comes, we will be able to enjoy life together as a family without having to worry about money. Words can't express how grateful I am Ted and I thank you for giving me an opportunity to share what Global Wealth Trade and MLM have done for my life.
Contact details Lior Skaler:
www.gwtopportunity.com/liorskaler