Talk Fusion's Premier 3-in-1 Video Product Talk CONNECT Enters Beta Testing
December 18, 2013
By Team Business For Home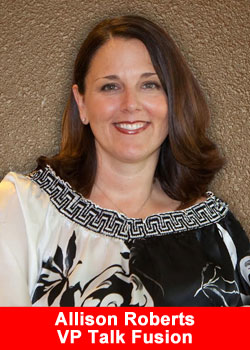 Florida-based video communication and relationship marketing company Talk Fusion released its highly anticipated new product Talk Fusion CONNECT to closed beta testing.
Company Founder & CEO Bob Reina and VP of Training & Development Allison Roberts treated the testers to an exclusive Live Broadcast, using the product and showcasing its many industry-leading features.
A 3-in-1 Live Broadcasting, Video Conferencing and Desktop Share product, Talk Fusion CONNECT is the first of its kind to integrate emerging Real Time Communication (RTC) protocols, and represents a new standard in online peer-to-peer interaction.
Among Talk Fusion CONNECT's many new features are Unicode-compatible chat for typing in multiple languages; browser-based connectivity that eliminates the need for plugins or update downloads; and a Desktop Share client with second-to-none visual clarity that allows the meeting host to select only what he or she wants attendees to see.
Talk Fusion issued a call for beta testers among its Customers and independent Associates in more than 140 nations worldwide, and was nearly overwhelmed by the response it received. The company then selected a group of candidates that encompassed a variety of geographic locations, internet speeds and computer operating systems in order to do the most comprehensive testing possible.
"We're thrilled that our Customers and Associates are so enthusiastic about Talk Fusion CONNECT," says Mr. Reina.

"And we're happy to have them assist us in putting the finishing touches on what is truly a world's first in video communication."
Talk Fusion CONNECT will join the company's versatile suite of video communication products—which includes Video Email; the World's First Video Newsletters; E-Subscription Forms; Video Auto Responders; Fusion On the Go Mobile Apps; Video Blog; Video Share; and social network the Fusion Wall—at the conclusion of this round of closed beta testing.
ABOUT TALK FUSION
Talk Fusion is a rapidly growing global company dedicated to changing lives through providing cutting-edge personal and business Video Communication Products and a lucrative business opportunity. Talk Fusion's innovative products are marketed person-to-person by independent Associates in more than 140 countries.
The company was founded in 2007 by CEO Bob Reina and introduced the world's first Instant Pay Compensation Plan. Talk Fusion adheres to the highest ethical business practices and is a member of the prestigious Direct Selling Association (DSA). Reina firmly believes that "with great success comes greater responsibility."
To that end, his commitment to giving back has benefited numerous charitable organizations. Learn more at www.TalkFusion.com, www.talkfusiongivesback.com and www.talkfusioninthenews.com and "Like" Talk Fusion at www.facebook.com/TalkFusion.