Dr. Robert Gonzalez Signs Up With FGXpress
January 28, 2014
By Tina Williams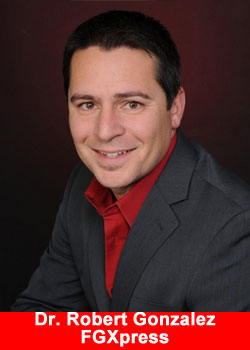 Dr. Robert Gonzalez, a top network marketer, has recently signed up with FGXpress. Having successfully owned and operated multiple Wellness clinics in Arizona, the Gonzalez's moved to California in 2007 to pursue Network Marketing full time as they were seeking time freedom to enjoy their family and the beach.
Dr. Gonzalez and Ann experienced an impressive growth in their time, reaching $1 million in monthly volume and a team of over 14,000 in just 18 months.
Currently residing in San Diego, USA the million dollar earners are building their amazing "Have It All" team through personal development, mentorship and a simple system to lead them to success.
Dr. Gonzalez has been featured in Steven Covey's 7 Habits of Highly Effective Network Marketing Professionals and is a dynamic speaker. He has spoken to thousands in multiple countries and has shared the stage with influential leaders, Dr. Deepak Chopra and Anthony Robbins.
They have chosen FG Xpress as their HOME for their career in Network Marketing. With a visionary leader Ron Williams, a seamlessly global opportunity with 190 countries able to receive product immediately, an FDA listed Class 1 Medical Device for the natural relief of pain and improving the look and feel of skin, combined with a 62% payout and a 50% front line matching bonus, Dr. G and Ann have already reached a leadership level and have an international presence in over 10 countries.
With their mission to Educate, Inspire, Motivate and Transform millions of lives through Natural Health and Conscious living, Dr. G and Ann are committed to building a legacy with FG Xpress.