Mary Kay Adds Black BMW Incentive
January 18, 2014
By Tina Williams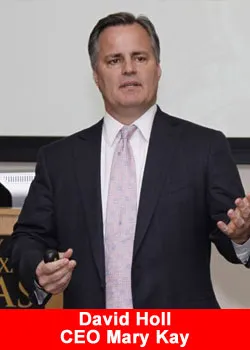 Spot a pink Cadillac on the road, and you'll likely think of Mary Kay.
Now, a black BMW 320i is joining the famous Mary Kay pink Cadillac as an incentive for high-performing sales directors, the cosmetic company unveiled today at its annual leadership conference.
Since 1969, the pink Cadillac has been a symbol of success for Mary Kay sales consultants. Mary Kay said the BMW 320i replaces the Mary Kay Ford Mustang introduced in 2011.
"When you think of BMW you think of sophistication, luxury, safety and class but overall, you think of performance," Sara Friedman, vice president of U.S. marketing for Mary Kay Inc., said in a statement. "These traits align beautifully with Mary Kay. By adding the BMW 320i to the Mary Kay Career Car program, we are providing a new kind of elegance and style to the top-performing Independent Beauty Consultants, while inspiring them to achieve new goals in their Mary Kay businesses."
About Mary Kay
Today, with more than 3 million Independent Beauty Consultants, Mary Kay offers more than 200 premium products in more than 35 countries around the world. For 50 years, Mary Kay has led the way in giving women what they crave: advanced skin care that delivers results; modern makeup in on-trend colors and advanced formulations; and fresh, unforgettable fragrances.
Source: BizBeatBlog