Robby Long Visionary Business Leader Resigns And Joins Zrii
January 3, 2014
By Team Business For Home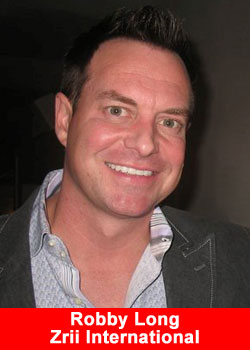 Zrii LLC today announced that Robby Long of Metairie, Louisiana, USA a respected entrepreneur with over 20 years of retail and network marketing business experience, has joined Zrii as an Independent Executive.
He was formerly a One Star Ambassador and part of the mastermind team that propelled the company to massive success.
"It's the choices we make that make us successful," said Mr. Long. "I want to be part of a company where I know in my heart the average person truly has a chance to achieve long term success and that is built on a philosophy of making sure that every decision they make always has the best interest of the distributors at heart."
Mr. Long is at a point in his career where he not only wants to help others attain personal success in all areas of their lives, but wants to wake up every morning completely in love with what he does by aligning himself with a company that is built on core values of honesty and integrity.
"This can only be done if the people at the top leading the company have those values built into their core beliefs, and after meeting Zrii President A. K. Khalil I knew this was a company I could believe in for the rest of my life," explained Mr. Long.
Both personally and financially, Mr. Long has already spent a lifetime exceeding expectations and defying the odds. At 18, he began his entrepreneurial career by opening a Smoothie King franchise. Friends told him it was just a passing fad and would never work. Twenty years later, he's grown the franchise to five locations and proved the naysayers wrong.
After a horrific accident left him in a wheelchair and doctors told him he would never walk again, Mr. Long focused his desire and belief on getting well. When he started walking, doctors said he would never run. Today, he's pleased to report that he runs just fine.
Helping others grow and become successful excites him most. Network marketing is all about relationships, and he believes if you invest time in helping people the money will follow.
"I know there may be a lot of questions regarding my decision to join Zrii and I will dedicate time to answering anyone who wants to know more," he said. "Please feel free to message me at www.meetrobbylong.com."
Zrii has soared from $1 million to over $4 million a month in sales in the last nine months. It was founded in 2008 with the goal of enhancing the health and happiness of people around the world through all-natural nutrition and wellness products.
Zrii partners with the world-renowned Chopra Center for Wellbeing, headed by Dr. Deepak Chopra, to create premium health products that integrate ancient wisdom with modern science. Zrii products are sold through a network of Independent Executives throughout the United States, Canada, and Latin America.