Talk Fusion Opens Beta Testing Of Talk Fusion CONNECT To All Pro Pak Users
January 15, 2014
By Tina Williams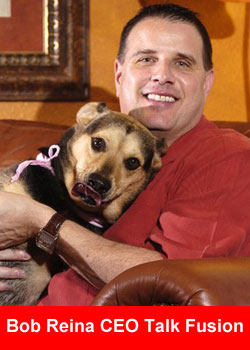 Florida-based video communication and relationship marketing company Talk Fusion announced it has opened up beta testing on its innovative 3-in-1 Live Broadcasting, Video Conferencing and Desktop Share product Talk Fusion CONNECT to everyone who owns its flagship product package, the Pro Pak.
The Pro Pak is Talk Fusion's biggest package and best value. It not only features all of Talk Fusion's many unique video communication products—including Video Email; the World's First Video Newsletters; Video Conferencing; Live Broadcasting; Fusion On the Go mobile apps; E-Subscription Forms; Video Auto Responders; Video Blog; Video Share; and social network the Fusion Wall—but also offers the highest commissions available to those who choose to earn additional income by sharing Talk Fusion with others. Any of the company's Customers and independent Associates who already own the Pro Pak, as well as those who upgrade and individuals who purchase the Pro Pak moving forward, are now welcome to join the pool of beta testers for Talk Fusion CONNECT.
A new and disruptive breakthrough in video communication, Talk Fusion CONNECT takes advantage of cutting-edge Real Time Communication (webRTC) standards to create a world's-first product for online video communication. While other applications such as Skype or Apple's FaceTime will only "talk" to each other, Talk Fusion CONNECT will allow cross-platform communication between parties with just a web browser and camera, instantly, with just a few clicks. Talk Fusion is the first product of its kind to use the technology, which is expected to be adopted by 1.5 billion people worldwide by 2016.
Talk Fusion CONNECT has been in closed beta testing for a few weeks. The product is scheduled to go live soon, and opening the testing up to all Customers and Associates with the Pro Pak product package should shorten the distance between testing and wide release.
"Our Customers, Associates and Executive Team are all extremely excited about how Talk Fusion CONNECT will change the way the world communicates," says Talk Fusion Founder & CEO Bob Reina. "We just can't wait to share it with as many people around the world as possible."
ABOUT TALK FUSION
Talk Fusion is a rapidly growing global company dedicated to changing lives through providing cutting-edge personal and business Video Communication Products and a lucrative business opportunity. Talk Fusion's innovative products are marketed person-to-person by independent Associates in more than 140 countries.
The company was founded in 2007 by CEO Bob Reina and introduced the world's first Instant Pay Compensation Plan. Talk Fusion adheres to the highest ethical business practices and is a member of the prestigious Direct Selling Association (DSA). Reina firmly believes that "with great success comes greater responsibility." To that end, his commitment to giving back has benefited numerous charitable organizations.