Herbalife's 4th Quarter Results
February 19, 2014
By Tina Williams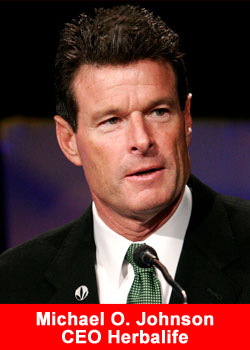 Herbalife reported fourth-quarter profits Tuesday after the bell that exceeded analysts' expectations. The results marked the 20th straight quarter the nutritional supplement maker's profit figures have exceeded Wall Street's estimates, according to FactSet, a stretch that dates back to 2008.
For the fourth quarter, Herbalife posted a profit of $123.5 million, or $1.15 a share, up from $112.2 million, or $1 a share, a year earlier. Excluding expenses tied to a re-audit of financial statements and other items, adjusted profit in the latest period totaled $1.28 a share. Sales climbed almost 20% to $1.27 billion.
Analysts polled by Thomson Reuters were expecting Herbalife to report earnings of $1.25 a share on revenue of $1.25 billion.
Shares jumped 3% to $71 in after-hours trading. The stock, which finished Tuesday at $68.93, is down 12% this year after it more than doubled in 2013.
Herbalife has been in the center of a public squabble among some of Wall Street's biggest and brashest personalities. On one side is Pershing Square's Bill Ackman, who publicly has said Herbalife operates an illegal pyramid scheme and has been betting against the company. Earlier this month Mr. Ackman's firm released what it called an in-depth study on "deceptive practices and recruitment systems" of one of Herbalife's top sellers in Canada. Mr. Ackman has promised that Pershing Square will continue to release details of deceptive practices executed by other top Herbalife sellers.
Herbalife has repeatedly denied accusations lobbed against its business model.
On the other side of the aisle, several prominent investors, including Carl Icahn and Dan Loeb, have bet on Herbalife's continued success. Mr. Loeb has since ditched his Herbalife holdings, making a hefty profit while he invested in the stock. Mr. Icahn maintains a significant stake in the company. Hedge-fund manager Kyle Bass sold his Herbalife position in the fourth quarter, while George Soros pared his Herbalife holdings at the end of the year.
The last time Herbalife's profit fell short of Wall Street's targets was in the fourth-quarter of 2008, when its quarterly earnings-per-share missed estimates by a penny. Excluding today's figures, the stock has risen the next day following 15 of those 19 quarterly beats.
Herbalife raised its outlook for the current quarter and year, pointing to recent share repurchases. The company said it will earn between $5.85 and $6.05 a share in 2014. Analysts previously forecast the company would earn $5.87 a share.
Herbalife in early February issued a first-quarter profit outlook that missed Wall Street's expectations, though the full-year guidance was affirmed. The company also boosted its share repurchase program to $1.5 billion.
Source: Wall Street Journal