Multi-Million Dollar Earner Stu Mills Joins Global Wealth Trade
February 19, 2014
By Team Business For Home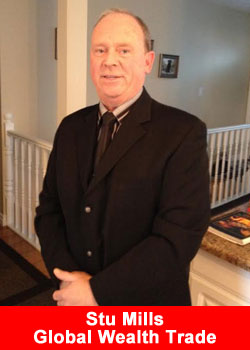 25 year MLM veteran Stu Mills is the latest MLM star to leave Health & Wellness for high fashion and designer mall concept of Global Wealth Trade.
Stu says:
" You don't know what you don't know"; this is a Forensic Networker's terminology for being "uninformed" and I know the Forensic Networker and CEO of Global Wealth Trade Ramin Mesgarlou for 20+ years.
I flew in to GWT HQ in Toronto from Alberta on December 2013 to look at the opportunity because I was frustrated with the borage of health companies launching daily and calling me with deals.
I knew it would be difficult even for me to build a sustainable business in health and wellness let alone the people that I bring in. I know about GWT for years now and witnessed their growth year after year and it seem to be the only company that has shown longevity where other opportunities make lots of noise for 6 months and disappear.
After reading some of the articles on businessforhome.org I got intrigued because GWT is so different but I still had plans to tell Ramin that his company is impressive but I am not into fashion, jewelry & luxury, I am a Heath and Wellness guy.
However after spending a day with Ramin and saw first hand his brand new VARIABLE and FREE FLOWING Binary compensation that creates millionaires with a team of 2000, it completely turned my MLM world upside down and shattered my "paradigm" that I had developed for over the past 25 years in health and wellness, I guess now I know what I didn't know".
Businessforhome.org has visited the gorgeous GWT head quarters and their world class FERI gallery in Canada several times, it's quiet impressive. However the information that Stu Mills and his initial leaders received and saw on their visit to GWT HQ was so profound that it inspired Stu to call his new group the "Blue Ocean" team.
"I called my new GWT power team the "Blue Ocean" team because I believe MLM has a safe platform and a dangerous platform I call Blue ocean vs Red ocean.
The shark infested red ocean is the 2,000+ MLM companies (DSA stats) that are operating today out of which 96% are wellness or Telecom based and collectively have approximately 91 million participants. The leaders jump from one company to the next and attempt to convince their teams to jump ship to a better juice or better service. It creates confusion, frustration and conflict leaving behind tons of casualties giving the industry a Black Eye.
The Blue Ocean on the other hand is peaceful and safe calm water with no competition. There is a cruise ship awaiting their leadership in the harbor where the GWT Cruise Line awaits. Interested in sailing the safe waters of the blue ocean, contact me for your introductory email.
Within the first week, the new Blue Ocean team launched new VDMs (Virtual Designer Malls) all across Canada and USA.
"People simply get mesmerized when they receive the GWT introductory email and watch the links where they are tough to even approach with yet another latest a greatest juice and shake. It's a breath of fresh air to finally promote a business that is 100% fail proof that absolutely everyone wins whether they sell anything or recruit anyone"
https://www.youtube.com/watch?v=gkU-fQUqYnQ
The "paradigm crusher" video that converted Stu Mills and his new Blue Ocean team is "The 25 reasons why GWT products are the best to market in MLM" by Ramin Mesgarlou.
This video led to another TELL ALL and intense video "What they don't want you to know – The Locker Room Talk of MLM" video where Stu Mills and his Blue Ocean team share their paradigm shift from the status quo MLM opportunities to GWT's new Virtual Designer mall concept.
https://www.youtube.com/watch?v=t6xygXEahw8