John Haremza – Top Earner and Top MLM Trainer 10 Video's
March 31, 2014
By Team Business For Home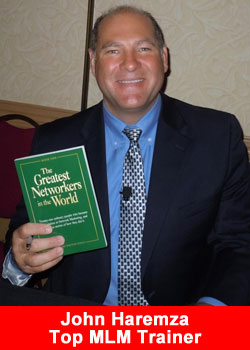 Both new and seasoned network marketers will gain insights into the best methods for building their business with this generic video's.
These are the techniques John Haremza has used to build his career.
John has been featured in numerous publications such as Stephen Covey's "7 Habits of Highly Effective Networkers" and as one of the 21 greatest network marketers in the latest book by John Milton Fogg, "The Greatest Networkers in the World"
Over the past 25 years John has helped his teams earn over $200 million in commissions and he has earned $14 million. He is the master distributor of a 3-year old debt free company with a rock solid infrastructure.
Network marketing has afforded John Haremza and his family an incredible life of friends around the world, great homes, travel, and fine dining.
Below video's have helped him become one of the world's top networkers and a multi-millionaire.
Now, he shares his systems step-by-step with you 🙂
1. People Buy People
2. Moving Your Prospect Along to A Yes
3. The Power Of Events
4. The Pros And Cons Of Getting A Yes
5. Small Steps To The Top
6. The Key Is Belief
7. The 90/10 Rule
8. Using The Scale Of 1 To 10
9. Your Most Important Tool Is 3 Way Calling
10. Why Use the Tools