Mary Kay Expanding In China
March 3, 2014
By Tina Williams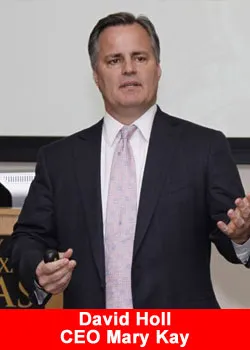 U.S. cosmetics company Mary Kay Inc. is in talks to buy an office building in Shanghai as part of its expansion plans in China, bucking the trend in a country where rivals have eased back.
The Texas-based direct-sales beauty company said in an emailed statement that it is in negotiations to buy the Point Jingan, an 11-story building in Shanghai's central Jing An District. The price could total 820 million yuan ($135 million), said people who have been briefed on details of the talks.
Because of the growth we've experienced in China and in many of our other markets around the world, we constantly evaluate our facilities and offices to make sure we have the right resources to sustain our growth, said Coco Zhang, a Shanghai-based spokeswoman for Mary Kay in China.
This would be the company's first office-building purchase in China, Ms. Zhang said. It owns a factory in the eastern Chinese city of Hangzhou, she said.
Mary Kay, which awards pink Mercedes Benzes to its top salespeople in China, first entered the country in 1995. It said on its website that its sales in China have risen 64-fold since 1998.
China has been a booming source of growth for the cosmetics industry over the past decade, with many women and even men trying out skin-care products for the first time. But online competition has redrawn the cosmetics and personal-care market, giving smaller brands great access to China's 1.34 billion consumers.