LegalShield Teams Up With American Jobs For American Heroes
April 7, 2014
By Tina Williams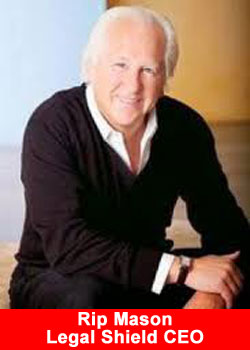 In early March, LegalShield announced the sponsorship of the #98 car, driven by Jack Hawksworth, in the IndyCar race series. Friday evening during his keynote address at LegalShield's Change Starts with You convention in Las Vegas, CEO Rip Mason unveiled further details on this program, including new and exciting initiatives supporting the military community: National Guard and Reserve units.

In speaking to the thousands of associates gathered at the Rio Hotel in Las Vegas, Rip said, "Our business opportunity is ideal for those in the National Guard and Reserve. It's especially vital for those who need to have a portable and flexible business opportunity. Additionally, military personnel are ideal for us; they possess all the prerequisites for success as associates—leadership, discipline, and determination."

LegalShield will be working with the organization, American Jobs for American Heroes, to visit National Guard and Reserve units around the nation, introducing servicemen and women to the LegalShield opportunity and inviting them to start their own home-based business.

What's more, a portion of the membership fees that come as a result of these presentations will go directly to the organization, Disabled American Veterans (DAV).

In his address, Rip noted the importance of being able to benefit an established and respected military charity: "The work the DAV has done for our veterans through the years is astounding. It is humbling and an honor to be able to help this organization through the program."

Reaching Out

LegalShield is very excited about this program and working with National Guard and Reserve units. Starting this week and continuing throughout the remainder of 2014, LegalShield will begin making a series of presentations at units around the nation.

They are being organized and conducted by LegalShield in concert with American Jobs for American Heroes and company-selected associates who have military backgrounds. The first presentations will take place this weekend in Orlando, Florida. In the coming weeks, presentations will occur through dozens of locations in conjunction with the IndyCar race series.

Because these presentations are being organized directly by the company, and because of the strict military guidelines and protocols regulating them, associates with military backgrounds will be invited directly by LegalShield to present to National Guard and Reserve units. To prevent confusion, all associates who are not directly invited to participate should not seek to make contact with any military organization for the purpose of conducting opportunity or product presentations.

We are looking forward to being able to help those who sacrifice so much on our behalf.