Mary Kay Never Quit
April 1, 2014
By Tina Williams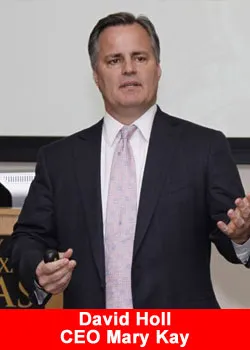 Everyone told Mary Kay Ash she was doomed to fail.
She had quit a good-paying job and spent all her savings to launch a direct-sales cosmetics company.
Her accountant warned her that a commission system would never work and she'd go bankrupt fast.
Her attorney showed her the long odds of any cosmetics business making big money.
I had burned all my bridges, she wrote in Mary Kay on People Management. If I failed, as a middle-aged woman in the early 1960s it would have been very difficult for me to find a job. Unquestionably, being at risk was the major inspiration for being innovative, hardworking and highly motivated.
She proved the skeptics dead wrong.
Last year, its 50th anniversary, Mary Kay Inc. brought in $3 billion, making it No. 163 on Forbes' list of the largest private companies, with 5,000 employees and 3 million independent beauty consultants, as her firm calls them.
The Texan
Ash's Keys
Founded Mary Kay Cosmetics.
Overcame: Resistance to women in sales management.
Lesson: You can do anything if you are willing to pay the price.
Most people live and die with their music still unplayed. They never dare to try.
She was born Mary Kathlyn Wagner (1918-2001) and grew up in Hot Wells, Texas. Her Ash surname would come from her third husband, Mel, who died in 1980, and she went by Mary Kay.
She was 7 when her father became an invalid due to tuberculosis, so she had to take care of him and the household while her mother brought in money as a restaurant manager.
Mary Kay earned straight A's in high school, finishing in three years, then married a musician, Ben Rogers, at 17. In the 1930s they needed more income because of the Depression, but it was hard for her to find a job that offered the flexibility needed to take care of their three children.
One day a woman came to the door peddling sets of books on child psychology. As they talked, she offered Mary Kay a free set if she could sell 10. She did — in two days, without even being able to show the books to her friends.
In the next nine months, she sold $25,000 ($400,000 in today's money) worth of the sets.
She then signed up with Stanley Home Products, which sold housewares direct to consumers at home parties.
In 1937 she attended a company convention and was inspired watching the firm's president crown its Queen of Sales. She approached the president and predicted she would win the crown the next year — and she did.
As she reached career heights, Ben returned from World War II in 1945 and announced that he wanted a divorce to marry someone else. I felt like a complete and total failure, she wrote in Mary Kay. For the next 17 years she reared her kids as a single mom while managing dozens of reps.
Read the full story on Investor's Business Daily