Mary Kays' Joyce Bruder Earns 19th Car
April 20, 2014
By Tina Williams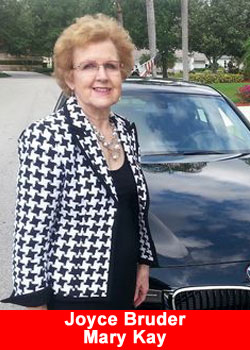 Mary Kay is riding in style.
Joyce Bruder, a Mary Kay independent executive senior sales director in Fort Myers, has earned the use of a shiny new BMW 320i as the result of meeting and exceeding goals in her Mary Kay business. This is her 19th Mary Kay career car.
They just introduced this in January, so it was really neat to be one of the first to qualify for it, she said of the BMW. Bruder has been driving it since Monday.
She began her Mary Kay career as an independent beauty consultant in 1977. She became an independent sales director in 1979, which allows her to provide education, leadership and motivation to other Mary Kay independent beauty consultants.
Cars earned by the independent sales force through this exciting program serve as a symbol of their hard-work and success in their Mary Kay businesses, said Darrell Overcash, president of Mary Kay Inc. U.S., in a news release. For 50 years, Mary Kay has continued to provide a rewarding opportunity selling irresistible products, changing the lives of women around the world.
Since the career car program's inception in 1969, more than 144,000 independent sales force members have qualified or re-qualified to earn the use of a Mary Kay career car. Currently, 6,032 Mary Kay career cars are on the road nationwide, according to a news release.
And for Bruder, her favorite was the pink Cadillac. She has driven seven of these.
That's what Mary Kay is known for, she said.