MonaVie Distributors Steve And Gina Merritt Earn 3rd Car
April 8, 2014
By Tina Williams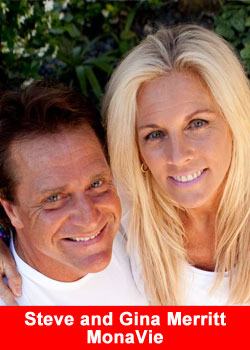 MonaVie is putting the spotlight on two of their top distributors today, after the pair achieved the enviable goal of earning a third car as a bonus for their excellent work as distributors. Steve and Gina Merritt now have a garage that could be the envy of any high-roller, with a Mercedes-Benz, a Jeep, and even a Lamborghini in their driveway, all courtesy of MonaVie.
The Merritts, who are Crowne Black Diamond Executives, recently received a brand new Jeep in recognition of their diligent work in the 4×4 Bonus Program. These enthusiastic distributors are a true success story, having joined MonaVie after 40,000 distributors had already signed up and a year after MonaVie officially launched. The 4×4 Program, which includes a new up-front bonus pool and Jeep program, was implemented by MonaVie just six months ago in North America and it has already paid out more than $800,000, and more than 70 Jeeps have been earned.
"We are more excited about our recent accomplishments—earning a Jeep and $22,000 in bonuses through the 4×4 Bonus Pool—than many of our other achievements!" says Steve Merritt. "Why? Because this is new money MonaVie added as a promotion for everyone to earn—especially new distributors—on top of our already lucrative compensation plan."
Since joining MonaVie, the Merritts have embraced the lifestyle and philosophy of the company's motto, "A More Meaningful Life," citing it as one of the main driving forces that keeps them focused on success at MonaVie.
"MonaVie is not a single trimester business—people's lives are being changed. People are attracted to MonaVie because of the potential to earn long term, residual income, but we offer more than an amazing financial opportunity. MonaVie offers people A More Meaningful Life," says Gina Merritt. "We believe if people only come into our business for the money, then they will easily leave for the next big deal. We offer more meaning by showing people they can improve themselves, which eventually leads to them building a successful MonaVie business."
After their recent success, the Merritts are more focused than ever on helping others achieve their dreams through MonaVie.
"Gina and I, along with the founders of MonaVie and other amazing MonaVie distributors, helped create the fastest billion dollar company in the history of direct selling, and we are about to do it again! Be sure to keep a look out for MonaVie and mynt as we look to make history by breaking the records we have already set," says Steve Merritt. "We are confident that 2014 will be the best year yet!"
About MonaVie
Since 2005, MonaVie has developed premium products dedicated to promoting health and wellness worldwide. With distribution in 40 markets, MonaVie addresses four key areas necessary for optimal health—Nutrition, Weight, Energy, and Stress—with products made from the best and rarest ingredients on Earth. The products, in conjunction with MonaVie VIEW Antioxidant Scanner, empower people to live healthier, more meaningful lives. That greater meaning is revealed through our heartfelt commitment to doing good in the world and by helping children and families in need through the MORE Project. Start living A More Meaningful Life today and discover the true, life-changing power of MonaVie.