Youngevity Continues Expansion Into Latin America
April 12, 2014
By Tina Williams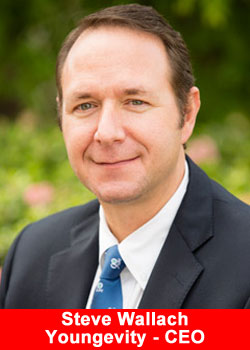 Youngevity International, Inc., a global direct marketer of nutritional and lifestyle products and also a vertically-integrated producer of gourmet coffees for the commercial, retail and direct sales channels, announced today its proposed expansion into Latin America and the appointment of Susana Azócar as Director of Sales and Operations for Latin America.
"We are very excited about our new plans for the Latin American market and we are committed to increasing operations in countries and markets that we believe represent long-term growth opportunities," said Steve Wallach, Youngevity's Chief Executive Officer. "Over the past year, we have experienced strong demand for Youngevity products and our business opportunity in several countries across Latin America, all of which helps to increase our direct selling coverage and distribution model, as well as generate higher levels of global market penetration."
"We are enthusiastic about the addition of Susana Azócar to our executive team and believe her experience and passion will significantly impact Youngevity's expansion into Latin America," said Dave Briskie, CFO of Youngevity Intl. who has been leading the company's global expansion campaign. He continued, "In addition to our recent announcement of our move into Russia, Eastern Europe, and Israel we now are beginning to execute a strategy focused on penetrating Mexico, Chile and Colombia as well as other targeted regions in Latin America. We are committed to investing in scalable markets, based on industry market research, and the ability to expand our team with experienced executive leadership in the targeted regions."
Susana Azócar is a multicultural executive, with more than 15 years of professional experience in business management in various industries with a keen focus on the markets of Latin America. Ms. Azócar has extensive experience in developing and opening new markets from the ground floor up, building and running business strategic plans, creating distribution channels, marketing campaigns and sales teams, both domestically and internationally. She has successfully opened and launched several regions throughout Latin America and led the expansion efforts of three different U.S. direct selling companies opening offices and building distribution networks in Guadalajara, Mexico; Caracas, Venezuela; San Juan, Puerto Rico; and Santiago, Chile.
"Youngevity has been readying and positioning itself for this expansion and we have already published the Spanish translation of our marketing and training materials. Additionally, we have a dedicated bilingual staff to accommodate this rapidly growing opportunity," added Mr. Wallach.
About Youngevity International Inc.
Youngevity International Inc., (otcqx:YGYI) ( www.YGYI.com ) is a fast-growing, innovative, multi-dimensional company that offers a wide range of consumer products and services, primarily through person-to-person selling relationships that comprise a network of networks. The Company also is a vertically-integrated producer of the finest coffees for the commercial, retail and direct sales channels. The Company was formed after the merger of Youngevity Essential Life Sciences ( www.youngevity.com ) and Javalution Coffee Company in the summer of 2011. The company was formerly known as AL International, Inc. and changed its name to Youngevity International Inc. in July 2013.