Amway Claws Back Its Profits
May 3, 2014
By Tina Williams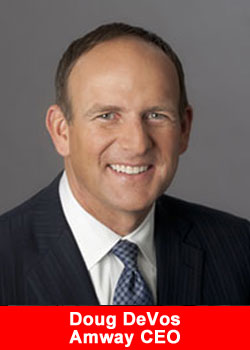 AS Amway (M) Holdings recovers from the global financial crisis in 2008, it faces problems of other sorts.
Direct-selling companies in Malaysia have been hit by the strain on the wallets of consumers but Amway intends to persevere with what helped it recover from those troubling times a few years ago.
"In the 2008-2009 crisis, Amway undertook several initiatives to turn adversity to our long-term advantage with investments in new Amway shops, a major advertising campaign and increased sales and marketing programmes," general manager Paul Yee says.
In that year, Amway also further improved business engagement with its distributors by accepting all credit card payments.
"This increased spending, together with the unfavourable exchange rate with the US dollar, lower interest income from the lower interest rate environment, and higher bank charges from acceptance of all credit cards were the reasons that impacted our profitability in 2009," says Yee.
In 2009, Amway's net profit dropped by 31% to RM72.5mil from RM95.1mil the previous year due to the global financial crisis.
Despite the setback, Amway proved itself to still be profitable as it saw earnings climbed steadily, posting a growth rate of between 7.4% and 13% each subsequent year.
Amway is growing after the last crisis, even as other retailers continue to struggle due to higher cost of living.
Companies such as Zhulian, Cosway, Avon and Amway make money through selling products ranging from fabric softeners to anti-aging creams.
"Situations like the above works well for direct selling as tough times and rising costs will put pressure on a person to look for additional income. Direct selling offers this opportunity to people.
"It also provides an entrepreneurial opportunity for anyone who wants to own and run a business," he says.
As of 2012, Amway had about 244,000 core distributors, and that number has been growing steadily by about 5% each year since 2008.
When the GST is introduced in 2015, it would have an impact on the group's business, as it will dampen buying sentiment.
"We hope there will be a reduction in income tax rates to help consumers and the elimination of other taxes like sales tax and excise duty.
"It will still mean higher cost of goods but it will also mitigate the adverse effect. In time, consumer will come to live with it as it will become a norm," Yee notes.
As Amway's profit grew, so did its cash balance. As of December 2013, the group is sitting on a RM152.88mil cash pile.
However, it is not planning on any expansion or mergers but will continue to use its money to build more Amway shops which costs around RM500,000 per store.
"Other than that, we don't buy new companies. We're very focused on direct selling and we're not distracted by mergers and acquisitions," Yee stresses.
The group's share price has also steadily increased since its listing, having shot up to RM12.40 in August 2013, in tandem with its steadily increasing top and bottom line.
"The share price reflects shareholders' confidence in the company. We are amazed at how stable our share price is. It's a good testimony as shareholders regard us as a very safe and strong company to invest in.
"Sometimes all we hear is the 'unhappiness' from shareholders as they can't get enough shares as it's not very liquid," he jokes.
Meanwhile, Kenanga Research in a report has pegged Amway as a market perform but remains neutral on the group because of the high product cost outlook as a result of the strengthening US dollar.
This comes despite Amway's continuous effort to grow its sales by enhancing the accessibility of products and brands, new product introductions and continuous sales and marketing programmes.
It has maintained Amway's net profit estimates of RM111.3mil for its financial year 2014, and RM121mil for 2015.
"Growth would be mainly supported by expected higher distributor productivity riding on the company's successful sales and marketing programmes," it says.
Touching on its growth story, Yee is looking forward to keep the group in its growth trend and tries very hard to make this year another successful one. Besides targeting the younger segment, Amway is also looking into penetrating the bumiputra market and has been actively promoting programmes to encourage growth in this area.
"It's a strategy that we have put forth since 2010 as we see the bumi market as having big potential. Since we started, we have seen double-digit growth for this segment.
"Currently our Chinese segment still contributes the most but we do recognise the bumi market as the larger one as 63% of Malaysians are Malays," he says.
With prudent management coupled with careful spending, it is easy to see how Amway manages to pay substantial dividends to its shareholders, with last year's payout amounting to 94% or RM102.74mil of its total net earnings for the year.
"We will pay no less than 80% of our profit to shareholders," says Yee,
The group posted a 4.6% increase in revenue to RM834.22mil for the year ended Dec 31, 2013 from RM797.2mil a year before, while profit was up 9.34% to RM109.08mil from RM99.74mil in 2012.
For 2014, Amway is targeting a low single-digit growth but Yee is keeping his fingers crossed for a double-digit growth.
Considering the group's age, it has managed to stay relevant to today's market after almost four decades in Malaysia.
"For continuity, we must keep ourselves in pace and refresh ourselves constantly," he says.