LifeVantage Q3 Sales Up 9.3% To 55.1 Million
May 7, 2014
By Team Business For Home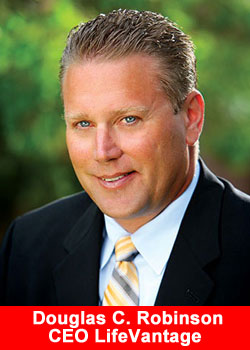 LifeVantage Corporation (Nasdaq:LFVN), a company dedicated to helping people achieve healthy living through a combination of a compelling business opportunity and scientifically validated products, today reported financial results for its fiscal 2014 third quarter and the nine months ended March 31, 2014.
Third Quarter Fiscal 2014 Highlights:
Net revenue was $55.1 million, an increase of 9.3% over the prior year period, negatively impacted by $2.3 million of year-over-year foreign currency fluctuation;

Revenue increased in Asia/Pacific by 29.8% compared to the prior year period, including a $2.2 million negative impact related to currency fluctuation;

Operating income was $4.5 million, an increase of 13.4% over the prior year period;

Cash position improved to $35.7 million; and

Share repurchase program and accelerated debt retirement initiative was implemented.
Douglas C. Robinson, President and Chief Executive Officer of LifeVantage stated,
In the third quarter, we executed on our key initiatives to reignite growth and delivered year-over-year improvements in sales and operating income.
We are encouraged by the improving trends in our important Asia/Pacific market, which achieved a 30% increase in sales.
In the quarter, we made the strategic decision to announce a price increase and a corresponding distributor commission increase in Japan. This increase, which became effective April 1st, is expected to help offset the year-over-year devaluation of the Yen. We believe this announcement resulted in accelerated purchasing of products and pulled a portion of revenue into the third quarter from the fourth quarter. We believe that these implemented changes in this market will be an important component of our long-term growth.
We have recently made a number of key announcements that improve the foundation of our business, Mr. Robinson continued.
At our Annual Global Convention in April, we launched the TrueScienceTM Skin Care Regimen, which builds upon our existing Nrf2 research and technology. In addition, we also acquired the assets of Wicked Fast Sports Nutrition, a sports nutrition company. Both product initiatives fit within our Feel Better, Look Better, and Perform Better product strategy.
As we begin the final quarter of this fiscal year, we remain focused on our three key growth strategies of investing and strengthening our sales and marketing efforts, continued product innovation, and expanding our geographic reach.
Third Quarter Fiscal 2014 Results
For the third fiscal quarter ended March 31, 2014, the Company reported net revenue of $55.1 million, an increase of 9.3% compared to $50.4 million for the same period in fiscal 2013. Revenue reflects a slight decline of 1.4% in sales in the America region, offset by an increase of 29.8% in the Asia/Pacific region due to growth in Japan and Hong Kong.
Revenue for the quarter was negatively impacted $2.3 million, or 4.6%, by foreign currency fluctuation. Based on preliminary unaudited April results, Asia/Pacific revenue in the third quarter benefitted by approximately $2 million from certain customers accelerating their purchasing in advance of price increases that went into effect on April 1, 2014. The Company had previously announced that it was increasing the price of its products to help offset the devaluation of the Yen, which occurred simultaneously with an increase of the Japanese consumption tax.