Mannatech's Announces Collaboration With ESPY Winner, Jason P. Lester
May 9, 2014
By Tina Williams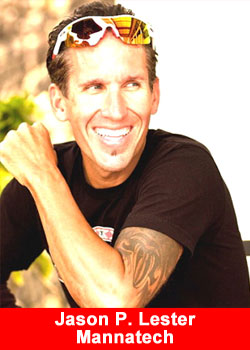 Mannatech®, Incorporated (MTEX), the pioneer of nutritional glycobiology, and leading innovator of naturally-sourced supplements based on Real Food Technology® solutions, proudly announced its collaboration with renowned ultra-endurance athlete, Jason P. Lester, as the title sponsor of the M5M? China Run.
Starting in August 2014, Jason Lester will run 2,500 miles along the Great Wall of China, one of the most monumental structures ever built, in order to raise awareness of the monumental mission to fight childhood malnutrition.
Lester's goal is to finish the run within 100 days, requiring an average daily trek over rugged terrain equivalent to almost a full marathon per day. If his mission is realized, Lester will be the first athlete to complete the Great Wall as a solo runner.
In 2013, Lester ran 3,550 miles across the United States, becoming the fourth fastest runner in 80 years to run from San Francisco to New York City. He is an author, business owner and winner of ESPN's 2009 ESPY Award for "Best Male Athlete." In 2011, Lester ran and biked 5,000 miles across the United States for Nike's Journey for a Better World campaign.
Jason Lester has incorporated Mannatech products into his training regimen for several years, and attributes the company's patented glyconutrient technology with providing him with a competitive edge.
"Mannatech's Ambrotose® product has been a secret weapon for me in competitions and training," explains Lester. "It has played a huge role in my training, recovery, endurance and overall quality of life." Jason Lester is an endorser of Mannatech as part of the Team Mannatech program.
Mannatech's Mission 5 Million movement, or M5M, is focused on connecting five million children in need with five million consumers of Mannatech products. As a social entrepreneurial company, Mannatech donates servings of its proprietary PhytoBlend™ powder to at-risk children all over the world every time a consumer purchases product for themselves on automatic order.
According to recent reports by the World Health Organization, approximately five million children under the age of 5 die every year due to causes linked to malnutrition. As the title sponsor of the M5M China Run, Mannatech is hoping to bring this catastrophic reality to the forefront, while also inviting the public to participate by sponsoring the M5M Run.
"We're extremely excited about the impact this collaboration with Jason Lester will have to help in the fight against global malnutrition," explains Dr. Robert Sinnott, CEO and Chief Science Officer. "Our theme at Mannatech this year is 'Break Through.' As we pursue our vision of linking five million consumers with five million children in need, we're proud to be associated with the breakthroughs taking place to make this happen.
What Jason Lester is about to accomplish speaks to a breakthrough in sports performance by combining talent, persistence, sheer will and commitment. The attention that the epidemic of childhood malnutrition will receive as a result of this joint effort will also be a true breakthrough in winning this fight for children all over the world."
"Just recently, I joined Mannatech personnel on a trip to Guatemala to one of the orphanages that receives their PhytoBlend powder, and I witnessed firsthand both the ravishing effects of childhood malnutrition, and the difference the M5M movement can have on it, " adds Jason Lester. "I'll be running with the utmost conviction and commitment later this year, and boosting the awareness of how we can all help with just the simplest actions."
Lester spoke this past weekend at the company's MannaFest? 2014 event, where Mannatech celebrated its 20th year. Thousands of Independent Associates from around the world rallied behind the M5M China Run.
To learn more about the M5M China Run and how you can get involved, visit M5MRun.com. To learn more about Jason Lester, visit JasonPLester.com.
About Mannatech
Mannatech, Incorporated, develops high-quality health, weight and fitness, and skin care products that are based on the solid foundation of nutritional science and development standards. Mannatech is dedicated to its platform of Social Entrepreneurship based on the foundation of promoting, aiding and optimizing nutrition where it is needed most around the world. Mannatech's proprietary products are available through independent sales Associates around the globe including the United States, Canada, South Africa, Australia, New Zealand, Austria, Denmark, Germany, Norway, Sweden, the Netherlands, the United Kingdom, Japan, Taiwan, Singapore, Estonia, Finland, the Republic of Ireland, Czech Republic, the Republic of Korea, Mexico, Namibia and Hong Kong.