Scentsy Introduces New Products After Sales Declines
May 7, 2014
By Tina Williams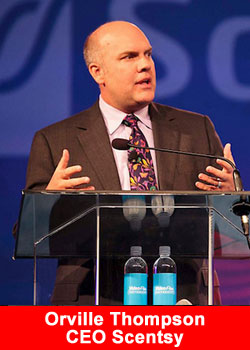 One year after Orville Thompson and wife Heidi Thompson bought Scentsy and moved the company to Meridian, a businessman expressed bafflement in the venture.
Candles were dying, he told Orville Thompson. The tarts business – meaning wickless, scented wax – was the worst aspect of the candle business. Why would the Thompsons throw themselves behind it?
Orville Thompson had heard the question before. He was $1.1 million in debt. But he saw potential in this scented wax thing.
I told him, 'We only have 66 people selling it, but they are fanatical about it, and our customers love it,' he said.
Orville Thompson wore an I-told-you-so grin as he retold the story from his spacious, third-story office with a wall of windows overlooking Eagle Road. Heidi Thompson, the president, sat beside him. They talked about the lean times before Scentsy grew to a network of more than 181,000 consultants hawking $559 million worth of Scentsy products in 2012.
The company's $88 million headquarters, finished last year, was designed to match the Scentsy logo, which Orville Thompson describes as a midcentury modern, 'Bewitched' kind of look. The building has a spiral staircase from the lobby to the top floor. The 73-acre property has an outdoor ampitheater, fountain and more than 1,000 trees.
The Thompsons have come a long way from the metal shipping container on the family sheep farm in Meridian, where Orville made the first Scentsy bars to package with the electric warming devices by hand. They've come a long way since they sold car-wash shammies, self-filtering water bottles and massagers in booths at fairs and home shows in Washington state while operating their first business, Event Sales.
They've come a long way from the days when they borrowed money from Event Sales pitchmen, friends and friends' parents to cover royalty payments owed to the original Scentsy owners.
By combining fragrance products and direct sales through independent sellers, rather than storefronts, Scentsy topped $2.2 billion in sales in its first 10 years. The next decade will prove whether or not the decline in sales from 2012 to 2013 was the first in a downward trend.
THE ROCKET YEARS
Scentsy sales grew more than 267 percent annually between 2004 and 2008, a trajectory that led Inc. 500 magazine to name Scentsy the fastest-growing consumer products and services company in the nation in 2010.
That growth rate wasn't sustainable. Sales in many states where Scentsy expanded crested. Growth in Europe, Australia and elsewhere hasn't made up the difference, leading to a 14 percent drop in sales in 2013.
Orville Thompson said he expected the decline. He expects sales to stabilize in the coming years and to remain profitable, as the company has been every year since 2004. But he suspended plans to build an adjoining building on the headquarters campus when sales slowed last year.
We knew there would be an overall correction, he said. Just like there's hype and hope that amplifies success, when the trajectory changes, there's doom and gloom.
Scentsy's revenue growth and current decline could fit within the S-curve pattern for companies that find sustained success after a rapid-growth period, said Kirk Smith, associate dean and professor at the Boise State University College of Business and Economics.
Their existing product line got them to $559 million, Smith said. It will probably drift on down from there but not fall off the edge of the earth. Companies see this product life cycle over and over again. They'll try to come out with new products and start the whole thing over again.
Competition has steepened in recent years with companies such as Yankee Candle and grocery brands such as Febreze jumping into the scented-wax market. In response, Scentsy developed two new product lines: Grace Adele, which offers handbags and jewelry, and Velata, which offers kitchenware and fondue.
Scentsy Fragrance has expanded into body products, sprays and other new items. The new products haven't taken off the way Scentsy's wax and warmer products did. Scentsy's flagship fragrance products still account for 94 percent of the company's sales.
Heidi Thompson said the company needs new products to pick up the slack as waxes and warmers decline.
People enjoying fragrance will always be around, she said. How it's delivered will change and has changed.
Scentsy's multilevel marketing structure helps free capital, Smith said. The company has 120,000 active consultants that double as marketers and storefront for the company. They are taxed as independent contractors, meaning Scentsy is off the hook for paying salaries and for the taxes and benefits that equal about 25 percent of salaries, Smith said.
The direct-sales model gives them tremendous reach into the marketplace at very low fixed cost, Smith said. It gives them flexibility.
MULTILEVEL MARKETING
Jorene Batali, of Meridian, remembers lugging 40 pounds of testing jars to her first Scentsy sales parties in 2004. One of the 66 consultants who signed on during the company's first year, Batali kept a booklet of 4-by-6-inch photos of products that Orville Thompson was still making by hand in the shipping container.
The products changed often. When Orville Thompson found new suppliers, Batali would swap out a photo of an old warmer for a photo of a new one.
Selling is less of a solo activity now. Scentsy's multilevel marketing structure allows consultants such as Batali to recruit others to become Scentsy salespeople, usually women. It's the same business structure used by Avon, Mary Kay and Pampered Chef. Melaleuca, a company based in Idaho Falls that sells nutritional supplements and other wellness products, reported sales topping $1 billion in 2012.
Batali earns a 25 percent commission on each sale. She also gets between a 2 percent and 9 percent bonus on sales of the nearly 1,000 consultants below her on the organizational chart, depending on where they fall in the structure. Team leaders collect bonuses from group members' sales only if those sales reach at least $500 each month.
Scentsy encourages consultants to relay orders to the company rather than buying and holding their own inventories, Batali said. She doesn't order products except to model at parties.
Batali quit her job at Syringa Bank in 2009 to pursue selling Scentsy products and manage her team full time. She said she tallied $30,000 in sales during the last year, mostly through Facebook and her Scentsy website.
Most of Batali's customers have purchased regularly for years, she said. Finding new customers and consultant recruits in Scentsy's backyard is harder these days, she said.
In Idaho, Scentsy is mainstream, she said. There are 1,600 consultants in Idaho, but I still run into people who have never experienced Scentsy. I will be over $4,000 in sales this month. That's a lot of wax and warmers.
Boisean Jenae Sexton became a consultant in 2011, hoping to earn vacation trips awarded to top salespeople. Today she has 108 consultants under her. Most are in Idaho, though one is in Australia.
Sexton did not disclose how much she earned in 2013 but said it was enough to not miss the job as a construction bond agent that she quit last year.
Most of Sexton's pay came from commissions on team sales. She and her husband will travel to Greece as a reward from Scentsy for passing a sales threshold.
Many consultants sell more as a hobby than a job, or they sign up to get a discount on Scentsy products they use themselves, Sexton said. Those looking for easy money should look elsewhere, she said.
Direct sales is like college, she said. A lot of people join, but a lot of people don't finish because they think degrees will happen without putting work in or the money will just fall from trees.
THE FUTURE
Orville Thompson said Scentsy will evolve by developing new products. But the original, linchpin products that have generated more than $2 billion in sales aren't going anywhere.
The concept of fragrance delivered through wax heated by a light bulb will last as long as the government allows us to have light bulbs, he said. There isn't a better way of getting fragrance.
Source: IdahoStatesMen