Herbalife Partners With Competitor Group, Inc.
June 23, 2014
By Tina Williams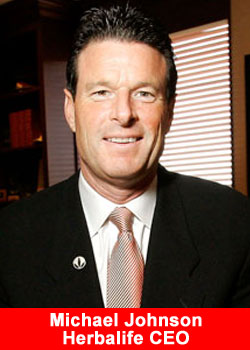 Herbalife HLF , a leading global nutrition company, today announced that it is partnering with Competitor Group, Inc. (CGI) to sponsor the Events DC Nation's Triathlon, one of the premier olympic distance triathlons in the United States. The sponsorship reflects the Herbalife commitment to help people around the world lead a healthy, active life.
Herbalife will be the title sponsor of the "Herbalife Congressional Challenge" and the "Herbalife Recovery Zone." The Herbalife Recovery Zone will feature a selection of Herbalife24™ sports nutrition products, which are designed to help athletes train, compete, recover and perform at the highest level, including Herbalife24™ Rebuild Endurance recovery shake and H3O® Fitness Drink. Herbalife will also provide athletes with nutrition tips and best practices for pre-, during, and post-event to assist participants in training for this and future events.
"Herbalife is very excited to be partnering with CGI on such a landmark event," said Rob Levy, executive vice president, worldwide sales and marketing, Herbalife. "The endurance athlete community is one we have a longstanding respect for and relationship with, both through the events we are involved with around the world and the successful athletes who benefit from Herbalife® sports nutrition products. We look forward to welcoming all participants to what we expect will be a great event in the nation's capital."
"We're delighted to be teaming up with a premier brand like Herbalife who shares our passion and commitment to active lifestyles and the sport of triathlon," said Bill Pedigo, chief revenue officer of CGI, which owns and operates the Events DC Nation's Triathlon. "This partnership brings together two of the most well-respected and recognized names in multisport. We look forward to creating an enhanced post-race recovery zone, complete with Herbalife® performance nutrition products, for participants to celebrate the accomplishment of crossing the finish line in a memorable way."
The 9th Annual Events DC Nation's Triathlon benefits the Leukemia & Lymphoma Society, the world's largest health organization dedicated to funding research and providing patient education and services in the field of blood cancer. The Triathlon will take place on Sunday, September 7, 2014, in Washington, D.C. Course routes will take participants past some of the Nation's best known memorials and historic landmarks, including the Jefferson Memorial, the Lincoln Memorial and the Washington Monument.
As part of the Triathlon, Herbalife will also sponsor the Herbalife Congressional Challenge, open to all Capitol Hill-based federal employees, including those who work for Administration offices and the White House. Participants may also compete in a race-within-a-race, including a Military Challenge and a Commander-in-Chief Challenge, open to military academy student participants, and the Tri Club Challenge, for triathlon club members. To register for the Herbalife Congressional Challenge, go to NationsTri.com .
ABOUT HERBALIFE LTD.
Herbalife Ltd. is a global nutrition company that sells weight-management, nutrition and personal care products intended to support a healthy lifestyle. Herbalife products are sold in more than 90 countries to and through a network of independent members. The company supports the Herbalife Family Foundation and its Casa Herbalife program to help bring good nutrition to children.
ABOUT EVENTS DC NATION'S TRIATHLON
Operated by Competitor Group, Inc., the 9th Events DC Nation's Triathlon is one of the premier olympic distance triathlons in the United States. Set against the magnificent and historic architecture of Washington, D.C., participants in the event will swim 1.5k in the Potomac River, bike 40k past significant landmarks, and run 10k through downtown.