4Life Celebrates Four New Gold International Diamonds
July 15, 2014
By Nicole Dunkley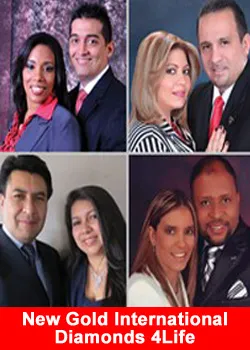 4Life Executives recently announced the advancement of four new distributors to the rank of Gold International Diamond, the company's second highest rank.
The distributors include Antonio Jesús Nuñez & Joanie Clunie from Panama, Edgardo Negrete & Milena Cerpa from Colombia, Franklin Enríquez & Mónica Martínez from Ecuador, and Nathaniel Lowe & Jamileth De Lowe from Panama.
President and CEO Steve Tew: "It is my pleasure to congratulate each one of these distributors on their tremendous accomplishment. They each serve as great examples of dedication, commitment, and support for others. 4Life distributors who achieve the rank of Gold International Diamond do so by helping others achieve their goals."
Antonio and Joanie joined 4Life to have more time to enjoy life and pursue their interests. Now they have time to learn about new cultures and travel. "Today, we live in our dream home overlooking the ocean in one of the best neighborhoods in Panama. We have been able quit our other jobs and travel to more than 20 countries."
Edgardo and Milena joined 4Life because they knew it would offer the potential for personal growth, social contribution, and financial freedom. We now feel like we are in control of our lives and have time to do the things that we love. Our family enjoys better health support and our business has the backing of a great company."
Franklin and Mónica believe that the key ingredients to success are faith, patience, and dedication. "4Life has given us the opportunity to have our own business with a small investment and great growth potential. We enjoy helping others and seeing them enjoy the benefits of 4Life products."
Nathaniel and Jamileth feel that their 4Life business has been a blessing because they now have more time to travel and spend time together. "Let your dreams be your main focus and you will see the results. The ingredients for success are faith, commitment, determination, and vision."
About 4Life
4Life's leading group of doctors, scientists, and researchers continue to advance immune system science with innovations in product formulation, production standards, delivery methods, and more. Today, people in more than 50 countries enjoy the immune system support of 4Life products.