Amway Releases Second Edition Of The Nutrilite Story
July 13, 2014
By Tina Williams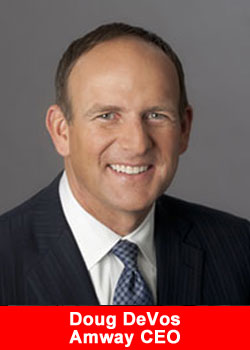 Amway Co-Founder Rich DeVos says that without the Nutrilite story, there would be no Amway story.
When Jay Van Andel and I became Nutrilite distributors in 1949, we knew the product and the plan were something special, DeVos said. In this (new) book, Dr. Sam Rehnborg shares the remarkable story of Nutrilite, from Carl Rehnborg's pioneering work in developing the multivitamin to how the Nutrilite brand helps millions achieve optimal health through Amway today.
It's only been five years since the release of the first edition of The Nutrilite Story: Past, Present and Future, which chronicles the journey of Nutrilite Founder Carl Rehnborg as he launched what is now the world's number one selling brand of vitamins and dietary supplements.
But a lot has happened in the last five years.
As Nutrilite celebrates its 80 th anniversary, the second edition of The Nutrilite Story: Past, Present and Futureadds five chapters that chronicle the tremendous growth experienced from 2009 to 2014. That growth reflects advancements in research that drive innovative product development, investment to expand global manufacturing capabilities, and the unique global agribusiness approach that supports Nutrilite organic farms.
The Nutrilite story continues to grow, fueled by ongoing demand for our products that is driving global investment in manufacturing, and research and development, to help people achieve their own optimal health, said Amway Chief Sales Officer John Parker, who's been with the company for more than 20 years.
The other part of that equation, which is just as important, are the relationships that have developed between people in this business, and that make the Amway business so special. This book documents the power of these relationships, starting with the quest of one individual, and ends with inspirational stories from our top Amway business leaders, setting the stage for the extraordinary unwritten chapters of where Nutrilite and Amway will go next. Together, it just keeps getting better.
The book, written by Dr. Sam Rehnborg, Carl's son and president of the Nutrilite Health Institute, is available for $9.99 USD in eBook format from online vendors globally, including Vook, Amazon, Apple, Barnes & Noble, Kobo, Samsung, Google Play and Baker & Taylor.
I'm often asked what my father would have thought about all the advancements that we have made over the last 80 years, Sam Rehnborg writes in the book. To some extent he would have expected it, even anticipated it. 'We're making good progress,' he would say. 'But we have more to do.'
In addition to Carl's story, the added chapters include entries from more than 100 top-selling Amway Business Ownerssome of the people who make the brand a success. They share their own journey to optimal health through Nutrilite and how the brand has contributed to the success of their business.