An Origami Owl Family Suffers Great Tragedy
July 13, 2014
By Tina Williams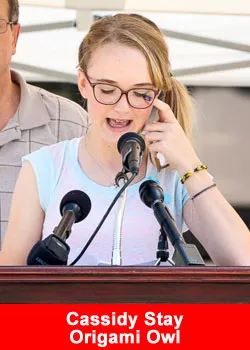 A 15-year-old girl suburban Houston girl who survived an attack in which her parents and four younger siblings were killed says she's on the road to recovery.
The Houston Chronicle reports that Cassidy Stay also thanked first responders Saturday during a gathering in her hometown of Spring to honor her and her family.
Stay was released from a hospital Friday, two days after the attack in which her skull was fractured by a bullet graze.
Authorities say her aunt's ex-husband, Ronald Lee Haskell, stormed into the family's home Wednesday and fatally shot her parents and four siblings, who ranged in age from 4 to 13 years old. They say Stay survived by playing dead and called police to warn that Haskell intended to go to her grandparents' house next.
About Origami Owl:
Origami Owl® Custom Jewelry began in 2010 when 14-year-old founder Bella Weems had a simple dream of owning a car by the time she turned sixteen. She created a line of meaningful, customizable jewelry, including its signature Living Lockets® which can be personalized with an individual's own life journey. Fast forward three years and Origami Owl, a national social selling company and Inc. Hire Power Award recipient is fulfilling its mission to be a force for good; to love, inspire and motivate people of all ages to reach their dreams and empower them to make a difference in the lives of others. Based in Chandler, Arizona Origami Owl boasts hundreds of employees and more than 60,000 independent sales consultants, referred to as Designers, nationwide. These entrepreneurs sell the unique line at in-home parties called Jewelry Bars®.