Federal Grand Jury Indicts TelexFree Owners
July 24, 2014
By Tina Williams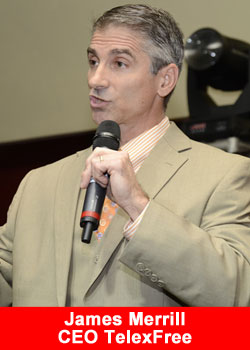 The Wall Street Journal reported that a federal grand jury indicted (Formally and officially accused) TelexFree LLC co-founders and owners James Merrill and Carlos Wanzeler Wednesday on fraud charges tied to allegations that their company operated a massive pyramid scheme.
The indictment expands upon the original criminal case against Messrs. Merrill and Wanzeler, who in May were each charged with one count of conspiracy to commit wire fraud in connection with the alleged pyramid scheme, which prosecutors say caused total losses of more than $1 billion, including promised returns to investors.
In addition to the conspiracy charge, the indictment adds eight counts of wire fraud stemming from transfers of about $10 million in TelexFree funds to the two men's personal accounts.
Each count carries a maximum sentence of 20 years.
The defendants devised, and intended to devise, a scheme to defraud, the purpose of which was to obtain money and property by means of materially false and fraudulent pretenses, promises and omissions, reads the indictment, filed in the U.S. District Court in Worcester, Mass.
Lawyers for Messrs. Merrill and Wanzeler couldn't immediately be reached for comment Wednesday. However, the men have maintained their innocence since the original charges were filed. And in court papers, Mr. Merrill has specifically denied prosecutors' claims that TelexFree illegally raked in hundreds of millions of dollars from a global network of investors.
Arrested in May, Mr. Merrill, 53 years old, was released on bail last month, on such conditions that he surrender his passport and wear an electronic monitoring bracelet. Mr. Wanzeler, 45, fled to Brazil before he could be arrested, but prosecutors on Wednesday issued a federal arrest warrant for him.
The government is also seeking forfeiture of a variety of personal and corporate assets like $140 million in cash, real estate and sports cars, including several BMWs and a Ferrari.
TelexFree used a network of at least 700,000 investors—which it called promoters—to assist in the distribution of voice over Internet protocol, or VOIP, telephone service plans as well as to recruit new investors. According to court documents, the company's plans allowed for unlimited international calling to approximately 70 countries for a monthly rate of $49.90.
The company, which disputes allegations that it operated a pyramid scheme, sought Chapter 11 protection in April with the goal of reorganizing, but it and its principals were soon hit with litigation by state and federal securities regulators. In bankruptcy, control of the company has since been turned over to an independent trustee.