Healthy Home Company Buys OneBode
July 27, 2014
By Tina Williams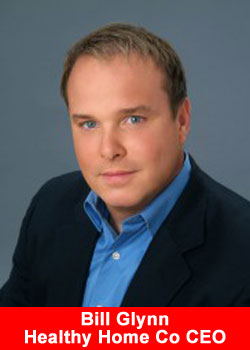 American Green (OTC: ERBB) announced today that it has sold all of the assets of its wholly owned subsidiaries OneBode Holdings LLC and OneBode Ventures LLC for $3,500,000 to the Healthy Home Company and OneBode founders Sean and Tylene Loomer. OneBode was acquired by American Green in June of 2013.
The sales price reflects the value created in OneBode over the past year and locks in a solid rate of return for American Green shareholders. Simultaneously it will free both time and operating capital for American Green to focus on its other divisions as it expands and utilizes the offices formerly occupied by OneBode.
Healthy Home is a rapidly growing business with a unique sales model that doesn't require physical locations or cyber marketing. Rewarding people for telling others about their products is the oldest and most powerful form of advertising.
This model is perfectly suited to get the OneBode products to the people that need them, comments Stephen Shearin, American Green President. This is absolutely the best outcome for all parties involved and while we'll miss the OneBode team and its enthusiasm, this will enable them to flourish in an organization perfectly suited to their endeavors.
Last year, when we were acquired by Tranzbyte, Tylene and I counted on them to help us create a winning successful environment at OneBode, one that was capable of attracting a great company like Healthy Home. The speed at which Healthy Home is growing is incredibly exciting, and we expect that growth to continue. The OneBode platform and our new Health Home partnership are an ideal match designed to propel us in our mission to educate the public on the benefits of living a healthy lifestyle.
The Healthy Home Company is growing through acquisitions, joint ventures and consolidating strategic partnerships under our umbrella. This is the 4(th) transaction since January that my partner Ben Platt, CFO and I have executed and the most strategic thus far. According to Bill Glynn, CEO of the Healthy Home Company. The really big win is becoming partners with Sean and Tylene. I believe they are destined to be nationally recognized brands in the health and wellness space and Healthy Home will put its muscle behind them to make that so.
About Healthy Home Company
The Healthy Home Company competes with grocery stores and online retailers that sell organic and all natural products using word of mouth advertising. Healthy Home sells personal care, household, health and wellness, skin care and make-up products made with all-natural, organic, and toxin-free ingredients under its own brand and several brand partnerships. Healthy Home members are rewarded with a 10% commission for referring others to shop based on how much they purchase, and uniquely, for as long as they purchase products.
Other Healthy Home offerings allow members to build their own businesses in order to earn a part time or full time income by simply sharing products they use every day with their friends. The OneBode acquisition increases the Healthy Home portfolio of products to almost 100 and expands the company's competitive focus to go head-to-head with major vitamin and supplement shops across the country.