Mary Kay Awards $1.2 Million In Grants
July 15, 2014
By Tina Williams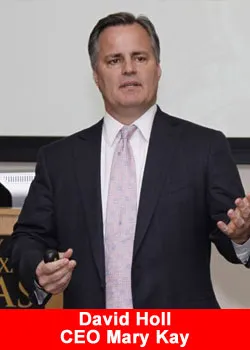 The Mary Kay Foundation has awarded a total of $1.2 million in grants to the 12 top institutions researching new treatments for cancer in the U.S.Major medical centers, which included Baylor College of Medicine in Houston, were awarded twelve grants of $100,000 each, after the research review committee reviewed more than 80 applications submitted to the Mary Kay Foundation.
Prominent medical scientists and doctors form the review committee, volunteering their time to help the Foundation choose the most promising research projects.
"With 3 million Mary Kay independent beauty consultants in more than 35 markets around the world, our mission is enriching women's lives," said Michael Lunceford, chairman of the board for The Mary Kay Foundation. "Through our independent sales force, we know too many heartbreaking stories of women battling cancer.
By supporting top medical scientists at some of the most-respected institutions in the country who are searching for cures, early detection screenings and innovative cancer treatments, we only hope that we begin to hear more stories of survival. To date, the Foundation has invested more than $20 million in the cause."
According to the American Cancer Society, in 2014, 810,320 women are expected to be diagnosed with cancer, which is the second leading cause of death for women in the United States. To The Mary Kay Foundation, it is not a mere number. Rather, it represents a mother, sister or daughter, which is why Foundation proceeds its steadfast fight against cancers affecting women.
Putting these newly received grants to use, the University of Vermont College of Medicine in Burlington, Vt., will explore the impact of cholesterol medications on breast cancer patients; Johns Hopkins University in Baltimore, Md., will develop a new screening approach for endometrial and ovarian cancers; Baylor College of Medicine in Houston, Texas, will study preventative therapies to reduce breast cancer incidences; the University of Notre Dame in South Bend, Ind., will work to identify cells that become resistant to chemotherapy.
"It's important in science to push the boundaries and take risks but it's also imperative to have the opportunity to pursue such research aspirations," said Jerry W. Shay, Ph.D., professor and vice chairman of the Department of Cell Biology for The University of Texas Southwestern Medical Center at Dallas, who also serves as chair of The Mary Kay Foundation Scientific Review Committee.
"This year, we ranked all grant applicants on a scale system and narrowed the pool to the top 12 most promising and innovative research teams, doctors and medical scientists in the country. Thanks to grants like these, we are giving the medical community the tools to explore and develop early diagnosis and new treatments for cancers affecting women."