Soccer Champion, Bruce Grobbelaar, Turns To Visalus
July 11, 2014
By Tina Williams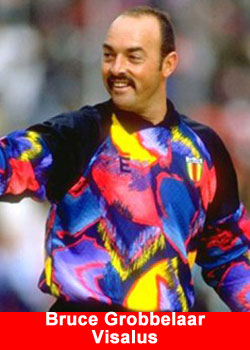 Bruce Grobbelaar, a Visalus Promoter and legendary goalkeeper for the world-renowned soccer team Liverpool FC, knows a thing or two about winning championships. For example, at Liverpool he won six First Division Leagues, three FA Cups, three League Cups, and one European Cup.
However, after retirement he faced a new challenge: being overweight. But the winning attitude that guided him through his soccer career, plus the support from the Visalus Community, helped him get back to his normal weight—and back to the soccer field.
Bruce has been an athlete all his life. "Growing up we played all sports," says Bruce. "It was cricket and baseball in the summer, and hockey and football in the winter." At the age of 19, he was offered a baseball scholarship in the U.S., but his passion for soccer was above everything else. And it didn't take long before he was offered his first professional contract.
After a couple of seasons playing for the Vancouver Whitecaps and Alexandra Crewe, Bruce took the biggest step in his career: He accepted an opportunity at Liverpool FC.
However, it wasn't easy. The first six months were very rocky for him. There was a lot of pressure, and he knew that if he continued playing badly, he wouldn't be a part of the team for long. But Bruce set out to play every game as if it was his last.
"After that moment, I played every game of the year," says Bruce. And at the end of the season, Liverpool won the Premier League championship. "It was a great feeling," Bruce adds. "I enjoyed every single moment of it."
Life After the Pros…The Visalus Life
After 13 years at Liverpool, Bruce's career slowly wound down into retirement. He left the team, played at other smaller clubs for a few years, and took with him the best memories of his professional life.
Bruce started a new life in Canada. He was no longer training at the demanding pace required for professional athletes, and this led to him becoming overweight.
But then came Visalus…
"I was at 253 lbs., and simply too heavy for my weight," admits Bruce. At first he didn't sign up for the Challenge, but when he looked at the ingredients of the Vi-Shape® Shake mix he realized that it was a product he could use. Six weeks later, he was down to his ideal weight of 198 lbs. But the biggest reward was to be able to get back into the game he loves.
"I'm 57 years old and I can play again," says Bruce. "My body doesn't have the extra weight at the joints anymore."
Bruce even Challenged his mother-in-law. "She takes her shake a day and her bowl a day, and she has lost weight," Bruce says.
Champion Mentality
For Bruce, becoming a champion in life takes dedication and hard work. But he also adds, "You must stay focused on your goal and achieve it…don't slack."
Bruce believes that Vi provides the best resources to hit your goals. "Look at where you want to be and continue working out, continue taking your Vi products, and you'll maintain the weight you desire."