Vemma Joins The $100 Million Club
July 9, 2014
By Tina Williams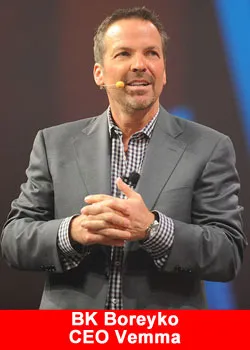 Vemma Nutrition Company has earned a coveted place in the DSN $100 Million Growth Club after skyrocketing 30 spots up the DSN Global 100 List in 2014 to land at #53. Vemma's inclusion is a result of its impressive 89 percent growth, closing the year up by more than $100 million in 2014.
Just 17 other companies on the DSN Global 100 List — the Direct Selling Association's annual list that ranks the top revenue-generating direct selling companies in the world — qualified for entry into the $100 Million Growth Club, including iconic brands such as Amway and Mary Kay.
In announcing its spot in the $100 Million Growth Club, DSN commended Vemma on a successful customer acquisition strategy and streamlined messaging, specifically tailored to resonate with a targeted audience. Additionally, DSN highlighted Vemma's commitment to the personal development of its Affiliates as an important factor in its growth.
Our inclusion in the $100 Million Growth Club reflects not just the great products we produce at Vemma, but most importantly the commitment and passion of our hardworking Affiliates around the world, said Vemma Founder and CEO BK Boreyko. And with our move to affiliate marketing this past March, I believe that together we'll be able to reach an even larger audience for even greater growth in the coming year.
The DSN $100 Million Growth Club announcement comes on the heels of Boreyko's Gold Stevie award win for Executive of the Year — Health Products and Services in the 2014 American Business Awards, another validation of a banner year in which the company chose to move to an affiliate marketing model due to its more customer-acquisition focus and alignment with current standards.
With Vemma's affiliate marketing model, everyone is first a customer with zero sign-up costs; customers can earn free product and product credits; Affiliates don't have to buy product to be paid; there are no renewal fees; and Affiliates have free, fully enabled ecommerce websites, free Back Office support, and the free mobile app capabilities to manage and promote their independent Vemma businesses.
About Vemma
Founded in 2004 by BK Boreyko and his two sisters, Karen and Lauren, Vemma Nutrition Company enjoyed $100+ million growth last year as one of the premier industry leaders specializing in premium liquid nutrition. Every month, tens of thousands of new customers experience the positive difference of the clinically studied Vemma Formula. The Vemma brands include the clinically studied Verve® healthy energy drink and Vemma Bod-e®, a weight loss line. Vemma is headquartered in Tempe, Arizona, and distributes its products through global affiliate marketing.