Visalus' Celebrates Its 2 Newest 500k Lifetime Earners
July 25, 2014
By Tina Williams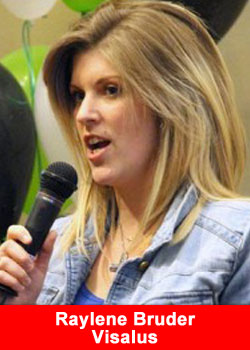 Visalus celebrates its newest $500K Lifetime Earners, 2-Star Ambassadors Raylene Bruder and Tyler & Mimi Ford (who also happen to be Active Challenge Champions).
They were asked what this milestone meant to them, how it's impacted their Vi business, and their advice to others looking to achieve the same success and beyond.
What does it mean to you to be a $500K Lifetime Earner with Vi?
RAYLENE: Honestly unreal! NEVER did it even cross my mind that this was POSSIBLE. It's so humbling to know that each dollar of that $500,000 is a representation of another life—that I have had the opportunity to even be a small part of changing it in one way or another. I'm feeling blessed!!
TYLER & MIMI: We feel blessed to have such a great team. If it wasn't for our team, we would not be where we are today with ViSalus. Being $500K Lifetime Earners has allowed us the time and freedom to be able to train and compete in the races that we like to do, which also allowed us to become Couple Active Challenge Champions.
Who or what has been the biggest inspiration to you in helping you achieve so much success?
RAYLENE: My parents (Rick and Elaine Lynas) are my biggest inspiration. I was blessed to grow up in a home where networking was always a part of our lives. I was shown a "different" way of life—the possibilities of working hard and helping enough people get what they wanted.
Also my team! I want them to see what's truly possible if you set your mind to it. I wouldn't be here without each of them and the hard work they have put in!
TYLER & MIMI: Rachel Jackson has been a huge reason for our success. She has taught us how to help others on our team, and she herself has been instrumental in helping those who are ready to run [to higher ranks].
How has achieving this milestone made an impact on your Vi business?
RAYLENE: I believe it has shown people that this is real; people DO make this kind of money! You can have what you want if you go about it the right way. It's allowed my team to see that if I can do this, they can too!
TYLER & MIMI: Getting to the $500K mark has made us realize that it is possible, and we can help others do the same.
What advice would you give to people who want to achieve the same milestone and beyond?
RAYLENE: You have to change something in life for things to change. If you don't like where you are, then YOU are the one who needs to do something about it! Success isn't found in your comfort zone, so get out there and get uncomfortable! You never know who NEEDS what you have if you don't ask! If you say nothing, then you are doing them a disservice.
TYLER & MIMI: Follow the system and teach others to do the same.
What is your next goal with Vi?
RAYLENE: Just help as many people change their lives in whatever way I can—whether that's fitness or finance. I would like to help at least another 20 people get into BMWs this year. I'm looking forward to watching a bunch of people on my team cross the stage this year as Ambassadors!!
TYLER & MIMI: Our next goal is to become 3-Star Ambassadors.
*Vi Independent Promoters achieve incomes and lifestyles across a wide spectrum. Examples featured in marketing materials are not necessarily typical or average, nor do they represent a guarantee of your personal results. Some examples are those of persons within the top 1% of all Promoters. As with any lifestyle opportunity, financial success with Vi depends largely on individual skills, motivation and effort.