ViSalus Selected As Official Nutrition And Wellness Sponsor Of American Youth Football & Cheer
July 16, 2014
By Tina Williams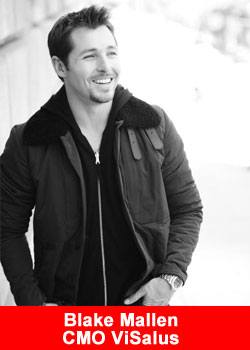 ViSalus, Inc., the company behind the #1 90-Day weight-loss and fitness challenge platform in North America, was selected the Official Nutrition and Wellness Sponsor of American Youth Football & Cheer, Inc. (AYF). Vi 1-Star Ambassador Vanessa Wilhelm (with spouse and former NFL player Matt Wilhelm) and Vi National Director Claudia Lugoindependently ignited ViSalus' involvement in AYF.
AYF is a 501(c)(3) non-profit corporation benefiting children who enjoy football or cheer. AYF is open to all children, despite financial challenges, and emphasizes self-confidence, teamwork, self-discipline, community involvement and other positive traits designed to help each child succeed. With the common goal of creating a better overall future, AYF and ViSalus is a natural connection for a partnership.
This partnership was developed after AYF team mom, Claudia, was introduced to ViSalus through the Wilhelms and experienced the positive benefits of a healthier lifestyle. Together, they saw the ability to utilize ViSalus' initiatives to benefit AYF programs in ways that educate and provide healthy options for children, as well as, providing a fundraising opportunity. Rather than selling magazine subscriptions or candy bars, this year AYF is using their fundraising efforts to create awareness around health and nutrition.
AYF athletes will raise funds while challenging others to set and achieve personal health goals using ViSalus products. Proceeds from all orders will go back to youth football and cheer programs to provide necessary equipment, league fees, and travel expenses. In addition, as each donor loses 10 lbs. towards their overall goal, ViSalus will donate additional healthy meals to children in need through its PROJECT 10™ Kids charitable giving program.
ViSalus supports the efforts to bridge the two community-focused programs. AYF has more than one million members worldwide, making this one of the biggest non-profit youth sports partnership in ViSalus history. ViSalus Co-Founder and CEO, Ryan Blair stated, This partnership represents the strong involvement our Promoters have within the community. Partnering with AYF marks a milestone in achievement in the global campaign for healthy living, focusing on the most crucial generation— our youth.
Select AYF conferences have already begun fundraising with ViSalus to help offset expenses, as well as providing healthy meal and snack options for both the children and their parents. According to Claudia, ViSalus' sponsorship is already showing a positive impact financially and nutritionally.
AYF has an amazing mission to develop the nation's youth with sports, education and mentorship, said Vanessa. Now that ViSalus and AYF are united, we have created a nutrition conscious lifestyle, champion mindset and a healthier community on the field.
About ViSalus
ViSalus, Inc. is a healthy lifestyle company that is dedicated to Challenging the World… 10 lbs. at a Time. Founded in 2005, ViSalus develops high-quality weight-management products and nutritional supplements that it markets and sells direct-to-consumers through an international sales force of independent promoters. ViSalus markets its products in North America under the ViSalus® brand and inEurope under the Vi™ brand, through the Body by Vi Challenge™. ViSalus is headquartered in Los Angeles, California and Troy, Michigan and is majority-owned by Blyth, Inc. (NYSE: BTH).