Ambit Energy Responds To Negative Press
August 12, 2014
By Tina Williams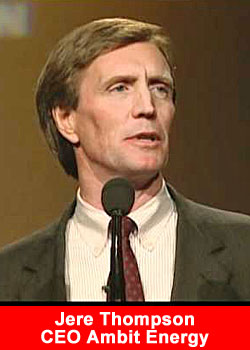 In a press release sent out this week, Ambit Energy speaks on how they have handled negative press and how they are overcoming future challenges.
Numerous reports of complaints have been received by BBB against Ambit Energy; however these complaints have been handled, resolved and dealt with at no time.
Ambit Energy is a United States Multi-Level Marketing Company which provides electricity and natural gas services among households. The company was founded in 2006 and its headquarters is located in Dallas, Texas.
Ambit Energy Holdings LLC have been accredited by the Better Business Bureau since its founding in 2006 and have enjoyed continuous accreditation ever since. The company committed in abiding with BBB's high quality accreditation standards and promises to continue to support them by providing excellent customer service to their consumers and making sure that all consumer complaints are resolved the soonest possible time.
Ambit Energy makes sure that everyone connected with their company follows the standards set by BBB. This is one of their top priorities since these are the core pillars of excellent consumer handling and a prosperous business. Ambit Energy wants to make sure that they have proper communication lines open to all consumers especially those who have complaints in the past. Ambit Energy expresses regret in some of the consumers' past experiences and is making sure those previous issues are resolved and handled accordingly.
As with any other customer service related company, Ambit Energy looks forward for ways to improve their Customer Care. For consumer complaints and those who have had previous experiences with the company which are anything but positive, Amber Energy is reaching out and would love to hear from them.
Previous reports have shown a negative impact on Ambit Energy Review.
However, like any other company who are striving to give 100% Very Satisfied Consumers, Ambit Energy is already on top of everything providing the best customer service solution possible making sure that those previous consumer complaints will turn into a positive one. With continuous effort in following BBB's standards, Ambit Energy is almost at the 100% mark in providing solution to previous consumer complaints.
Numerous reports of complaints have been received by BBB against Ambit Energy; however these complaints have been handled, resolved and dealt with at no time. Since the company has been committed in abiding to BBB's high standards, they want to make sure that their consumers are always on top of their priority. After all, Ambit believes that the consumers are the reason why they keep on growing.
Ambit Energy had been in a mission to provide prompt, professional and accurate Customer Service response all the time. However, they understand that there can be some flaws which might happen along the way. This is the reason why they acknowledge each customer's concern and complaints and provide the best solutions, meet their commitments and by doing so show that they care.
About Ambit Energy Holdings LLC
Ambit Energy provides electricity and natural gas services in deregulated markets across the United States, primarily marketed through a direct sales channel of more than 250,000 Independent Consultants. Based in Dallas, Texas, their company is focused on being the finest and most-respected retail energy provider in America, offering cost-effective choices for today's energy consumer. In 2010, Ambit was named #1 Fastest-Growing Private Company in America by Inc. magazine, and we continue to pick up steam as the fastest-growing company in the retail energy sector today.