Amway Korea Flaunts Regulations, Receives Slap On The Wrist
August 5, 2014
By Tina Williams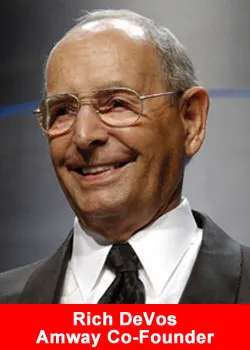 Amway Korea (CEO Park Sae-joon), the largest multi-level marketing company, received correctional orders from the Fair Trade Commission (FTC) for flaunting the regulations set for multi-level marketing companies. However, the FTC has also been criticized for handing out a too-light punishment.
Unilateral Arrogance
According to the FTC on July 29, Amway forced its salespersons who resell Amway products to not sell products cheaper than a stated purchase price. If any salesperson violated this order, they were temporarily disqualified from conducting any sales activities. Disqualified salespersons are not eligible for support allowances, usually paid depending on each person's sales performance and that of their subordinate salespersons. Disqualified salespersons can no longer recruit subordinates, either.
This is a clear violation of the Monopoly Regulation and Fair Trade Act (Section 21). Amway salespersons are not employees of the multi-level marketing company, but are considered to be independent retail distributors. Accordingly, salespersons can legally dispose of products they buy from the company via any method, including price discounts. This possibly helps consumers buy daily necessities at lower prices.
The FTC gave Amway corrective orders to stop the price fixing activities and delete the relevant clause from their sales guidelines. The FTC said, "Amway deprived consumers of the opportunity to purchase products at low prices by controlling the sales price."
Allowances Less than Top 10 Average
The incomes of Amway salespersons are already quite low. According to an investigation by the FTC, the average annual income of salespersons in the top ten multi-level sales companies in Korea is only 1.08 million won, or US$1,045.
But salespeople in Amway, the number one sales company in the industry, received on average only 770,000 won (US$745) per year, less than the average of the other top ten companies. Furthermore, the top 1 percent of Amway sales employees earned 56 million won (US$54,150) per year each on average, whereas the other 99 percent earned only 470,000 won (US$455) yearly.
A source in the industry said, "Due to the limit of the pyramidal multi-level sales method, income differences between top sellers and non-top sellers are inevitable. Top sellers take the majority of all allowances."
Amway also got penalized for enlisting 103 teachers and public officials in its ranks. According to the relevant laws, national, local, and educational officials cannot join multi-level sales organizations, since they could force civil petitioners or parents to buy products using their social status.
Slap on the Wrist
Despite its actions, blame is falling on the FTC now. There is controversy over the measures taken against Amway.
Based on its web site, Amway officially started to control sales prices from September 2008. They were only caught in October 2012, even though the FTC investigates multi-level marketing companies every year. It took another two years for the FTC to impose corrective orders. The commission commented on this by saying, "It took quite long for us to impose corrective orders. We have limited human resources, and internal policies and procedures to conduct complete investigations every year."
The punishment for Amway is also considered to be just a slap on the wrist. Other than the FTC's command to delete the relevant clause, there were no additional punitive measures, even fines. Regardless, the FTC said, "This case will ring an alarm for other companies."
Most MLM Heads from FTC
On the contrary, nine out of eleven CEOs of Mutual Aid Cooperative and Consumer (Mac & Co), to which Amway has belonged since 2002, and its sister organization MLM Union, are from the FTC. The current CEO of Mac & Co is a former high-level executive of the FTC.
The fact that heads of multi-level marketing companies, which the FTC needs to closely control and supervise, are former FTC executives shows that the FTC is not fulfilling its responsibility to take care of and protect sales employees and consumers. Furthermore, this could lead to the collapse of multi-level sales industry regulation.