ForeverGreen Worldwide Announces Q2 2014 Results
August 15, 2014
By Nicole Dunkley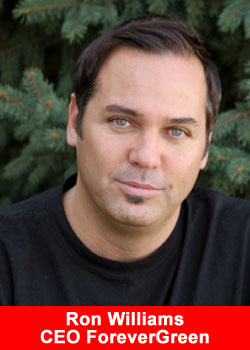 ForeverGreen Worldwide Corporation, a leading provider of nutritional foods and other healthy products announced Q2 2014 earnings. The quarter ended June 30, 2014.
Recent Company Highlights:
New leaders, distributors and customers added at record pace each month during 2014

Company achieved fifth consecutive quarter of operating profitability and second consecutive quarter of growth in operating and net income

Sales increased each quarter for the last 5 quarters

Company actively shipped product in 174 countries, up from just 150 at end of 2013

Company added new product, SolarStrips, to product portfolio

Company expanded to new corporate headquarters in Pleasant Grove, UT

Company met or exceeded monthly targets necessary to remain on target for the increased company guidance of $41-50 million of revenue during 2014
Highlights for Q2 2014 included:
Sales increased to $14,127,840 from $4,007,611 for Q2 2013, a 253% increase

Gross profit rose to $11,233,332 compared to $2,852,371 during Q2 2013, a 294% increase

Gross profit margins increased to 79.5% versus 71.1% during the comparable quarter during 2013

Operating income was $412,360 compared to $92,653, a 345% increase

Net income totaled $454,856 or $0.02 EPS versus a net loss of $5,383

Operating expenses excluding sales and marketing declined as a percentage of revenue from 31.9% in 2013 to 24% in 2014

Interest expense decreased to $70,407 or 0.05% of sales compared to $92,995 or 2.3% of sales during Q2 2013
Highlights for six months, ending June 30, 2014, included:
Sales increased to $24,664,242 versus $6,702,089, a 268% increase

Gross profit rose to $19,210,729 from $4,707,519, a 308% increase

Gross profit margins increased to 77.9% compared to 70.2% for 1H 2013

Operating income increased to $679,361 versus a net loss of $3,039

Net income totaled $635,907 or $0.03 EPS as compared to a net loss of $216,839 during 1H 2013

Interest expense decreased to $145,258 compared to $209,374 during the first six months of 2013

Total assets increased to $5,375,883 from $2,699,519 on December 31, 2013

Total liabilities increased nominally to $6,357,005 from $6,301,037 on December 31, 2013
"Total operating expenses for the quarter, excluding sales and marketing, declined from 31.9% in 2013 to 24.0% in 2014," said Allen Davis, COO. "Primarily, this was due to an increased awareness of expense management. Cost of goods sold increased to $2.9 million or 20.5% of sales compared to $1.2 million or 28.9% of sales. This was largely a result of optimizing pricing with our key vendors and change in product mix."
Forever Green experienced a 253% increase in sales over the corresponding quarter in 2013, solidly within the previously announced guidance of $13-15 million we issued for the quarter. Gross margins, operating margins and net profit margins all continue to improve.
About ForeverGreen Worldwide
ForeverGreen Worldwide Corporation develops, manufacturers, and distributes an expansive line of all-natural, whole foods and products to North America, Australia, Europe, Asia, and South America, including its new global offerings, PowerStrips and SolarStrips.
ForeverGreen Worldwide also offers Azul and FrequenSea™ whole food beverages with industry exclusive Marine Phytoplankton, the Versativa line of hemp-based whole food products, Immune Support, weight management products, Pulse-8 powdered L-arginine formula, TRUessence™ Essential Oils and Apothecary, 24Karat Chocolate®, and an entire catalog of meals, snacks, household cleaners, and personal care products. For more information about ForeverGreen Worldwide and its products, please visit https://www.forevergreen.org.