Nature's Sunshine Announces Closing Of Strategic Alliance With Fosun Pharma
August 28, 2014
By Nicole Dunkley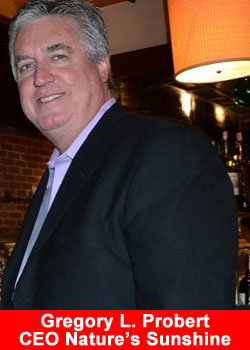 Nature's Sunshine Products, Inc. a leading natural health and wellness company engaged in the manufacture and direct selling of nutritional and personal care products, today announced the closing of its previously announced China joint venture with Shanghai Fosun Pharmaceutical (Group) Co., Ltd. and private placement transaction of 2.854 million shares of common stock, representing approximately 15% of Nature's Sunshine's outstanding common shares, to Fosun Pharma at a price of $16.19 per share. Aggregate proceeds to Nature's Sunshine were approximately $46.2 million.
Our strategic alliance with Fosun Pharma is the first of its kind between a U.S. company and a Chinese company for direct selling products in China, commented Gregory L. Probert, Chairman and Chief Executive Officer of Nature's Sunshine Products. Our entry into China marks the beginning of a valuable long-term partnership with Fosun Pharma, as well as a significant step forward as a global organization. As part of our go-to-market strategy, we are focused on completing the regulatory approvals process, establishing the necessary legal entities, recruiting key staff, and moving forward with products to market through a multi-brand, multi-channel approach. We look forward to working with Fosun Pharma to capture the vast opportunity ahead.
The joint venture, known as Nature's Sunshine Hong Kong Limited, is 80% owned by Nature's Sunshine and 20% owned by a wholly-owned subsidiary of Fosun Pharma. At closing of the private placement and joint venture, Nature's Sunshine's Board of Directors declared a special cash dividend of $1.50 per share payable on September 19, 2014, to shareholders of record as of the close of business on September 8, 2014.
Further, Nature's Sunshine's Board of Directors today appointed Dongjiu Li, Senior Vice President of Fosun Pharma, to its Board of Directors, effective immediately. In addition to his role at Fosun Pharma, Mr. Li currently serves on the Board of Directors of Sinopharm Group Co., Ltd (stock code:01099.HK), a healthcare products distributor. Mr. Li is also Vice President of the China Nonprescription Medicines Association (CNMA) and has been the China advisor for the United States Pharmacopeial Convention (USP) since 2007. Prior to Fosun Pharma, Mr. Li was a Vice General Manager at North China Pharmaceutical Co. Ltd (stock code:600912-SH) from January 2002 to August 2009.
Moelis & Company acted as exclusive financial advisor and placement agent and Latham & Watkins LLP acted as legal advisor to Nature's Sunshine Products in connection with the transaction.
About Nature's Sunshine Products
Nature's Sunshine Products, a leading natural health and wellness company, markets and distributes nutritional and personal care products through a global direct sales force of over 680,000 independent Managers, Distributors and customers in more than 40 countries. Nature's Sunshine manufactures most of its products through its own state-of-the-art facilities to ensure its products continue to set the standard for the highest quality, safety and efficacy on the market today. The Company has three reportable business segments that are divided based on the characteristics of their Distributor base, similarities in compensation plans, as well as the internal organization of NSP's officers and their responsibilities (NSP Americas, Asia Pacific and Europe; NSP Russia, Central and Eastern Europe; and Synergy WorldWide). The Company also supports health and wellness for children around the world through its partnership with the Sunshine Heroes Foundation. Additional information about the Company can be obtained at its website, www.naturessunshine.com.