Tania Rivera Shares How Visalus Changed Her Life
August 15, 2014
By Tina Williams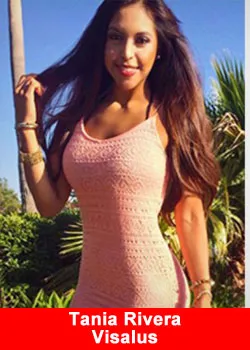 Houston resident Tania Rivera always had problems maintaining her weight. She especially struggled mentally and physically after losing her stepfather and the family's home in a short period of time.
After that, Tania lost her purpose in life, gained weight, and became anti-social.
"I was a size 12, weighed 177 lbs., and lacked confidence in myself," says Tania.
However, having been raised by a single mother, Tania learned to overcome adversity. She switched her mentality and was determined to lose weight.
"I decided to stop creating barriers for myself. I wanted to see how far I could go," she says.
Tania blocked herself from all distractions, hit the gym, and pushed herself passed her limits until she went down to 148 lbs. But during the holiday season, she had trouble maintaining her weight again.
It was then when she saw Buddy Rivera, the 2013 North American Vi Model, on Facebook. His amazing results immediately inspired her to accept The Challenge.
Tania joined Vi and realized she was able to maintain her weight thanks to the support of Vi's Community and diverse line of products.
A New Direction
Now, at 136 lbs., her vision of life is completely different. Tania is a Rising Star Director and has big dreams for her future.
"I want to run for Vi Model," she says. "I'm inspired by Buddy Rivera and Blanca Flores, the first Latina Vi Model."
Tania has also become an inspiration for others. When she started to work out, many girls wanted her advice. She wanted to help them, but didn't know how.
Vi has empowered her to guide others through their transformations. She's even walking the talk and training to compete in an NPC bikini competition to become an IFBB Pro.
"For the first time in my life, I have a purpose. I can reach out to hundreds of people and share my story through the PROJECT 10™ Challenge," says Tania.
In fact, she wants to dedicate her life to promote Vi. She's grateful that her story has impacted a lot of people – it's something Tania never imagined it was possible.
Plus, she doesn't want to live paycheck to paycheck anymore. With Vi, she has the opportunity to earn an extra income by Challenging others 10 lbs. at a time.
Vitality Comes to Town
Tania's transformation has not only been physical, it's also been psychological. She has a new mentality and a new direction in life.
"Fitness, my faith in God, and Vi have completely changed my outlook in life," says Tania.
She also found a great leader in Buddy Rivera because thanks to his vision, her team is receiving mentorship from Co-Founder and Global Ambassador Nick Sarnicola.
Adittionally, Tania is leveraging her testimony on social media to grow her team across the country. And with Vitality 2014 just around the corner, she's anxious to experience the biggest Vi event of the year in her hometown.
"I'm so excited that Vitality is coming to Houston. I've never been to an event like it," says Tania. "I've heard it's life-changing."
—
Tania Rivera, residente de Houston, siempre ha tenido problemas manteniendo su peso. Ella batalló física y mentalmente especialmente después de que perdió a su padrastro y su casa dentro de un corto período de tiempo.
Después de eso, Tania perdió su propósito en la vida, aumentó de peso y dejó de socializar.
"Era talla 12, pesaba 177 libras y no tenía confianza en mí misma", dice Tania.
Sin embargo, al ser criada por una madre soltera, Tania aprendió a superar las adversidades. Ella cambió de mentalidad y estaba decidida a perder peso.
"Decidí dejar de ponerme barreras a mí misma. Quería ver qué tan lejos podía llegar", dice ella.
Tania bloqueó todas las distracciones, fue al gimnasio y se exigió al límite hasta que bajó a 148 libras. Pero durante la temporada navideña, tuvo problemas otra vez para mantener su peso.
Fue entonces cuando vio a Buddy Rivera, Vi Model de Norte América 2013, en Facebook. Sus impresionantes resultados inmediatamente la inspiraron a aceptar el Challenge.
Tania se unió a Vi y se dio cuenta de que podía mantener su peso debido a la Comunidad Vi y su gran variedad de productos.
Un Nuevo Rumbo
Ahora en 136 libras, su visión de la vida es completamente diferente. Tania es una Directora Estrella en Ascenso y tiene sueños grandes para su futuro.
"Quiero ser Vi Model", dice ella. "Me inspiran Buddy Rivera y Blanca Flores, la primera Vi Model Latina".
Tania también se ha convertido en inspiración para otras personas. Cuando empezó a hacer ejercicio, muchas chicas querían su consejo. Ella quería ayudarlas, pero no sabía cómo.
Vi le dio el poder de guiarlas durante sus transformaciones. También pone el ejemplo, ya que está entrenando para competir en un concurso de bikini NPC (Comité Nacional de Fisicoculturismo) para llegar al IFBB Pro (Federación Internacional de Fisicoculturismo).
"Por primera vez en mi vida, tengo un propósito. Puedo ayudar a cientos de personas y compartir mi historia a través del PROJECT 10™ Challenge", dice Tania.
De hecho, ella quiere dedicar su vida a promover Vi. Está agradecida de que su testimonio haya impactado a tantas personas —es algo que Tania nunca imaginó que fuera posible.
Además, ya no quiere vivir de quincena en quincena. Con Vi, ella tiene la oportunidad de ganar un ingreso extra por retar a los demás 10 libras a la vez.
Vitality Llega a su Ciudad
La transformación de Tania no solo ha sido física, sino también psicológica. Ella tiene una mentalidad nueva y un rumbo nuevo en la vida.
"El ejercicio, mi fe en dios y Vi han cambiado mi perspectiva por completo", dice Tania.
También encontró un gran líder en Buddy Rivera, porque gracias a su visión, su equipo está recibiendo mentoría del Cofundador y Embajador Global Nick Sarnicola.
Además, Tania aprovecha su testimonio en las redes sociales para expandir a su equipo en todo el país. Y con Vitality 2014 a la vuelta de la esquina, ella está ansiosa de vivir el evento de Vi más grande del año en su propia ciudad.
"Estoy muy emocionada de que Vitality viene a Houston. Nunca he estado en un evento como este", dice Tania. "Me dicen que te cambia la vida".
*Results not typical. Achievements in earnings depend upon many factors, such as hard work, determination, financial resources and social contacts.

About ViSalus
ViSalus, Inc. is a healthy lifestyle company dedicated to Challenging the World… 10 lbs. at a time. Founded in 2005, ViSalus develops quality weight-management products and nutritional supplements that it markets and sells direct-to-consumers through an international sales force of independent promoters. ViSalus markets its products in North America under the ViSalus® brand, and in Europe under the Vi™ brand, through the PROJECT 10 Challenge®.
Having helped millions of people lose millions of lbs., The Challenge is one of the fastest growing weight-loss and fitness platforms in the world today. Headquartered in Los Angeles, California and Troy, Michigan, ViSalus is majority-owned by Blyth, Inc. (NYSE: BTH). For more information about ViSalus, please visit Vi.com and follow the Vi-Community on Facebook (Facebook.com/Vi) and Twitter (@ViSalus).*This article was originally posted on ViSalusblog.com