4Life Indonesia Launches New Products
September 4, 2014
By Nicole Dunkley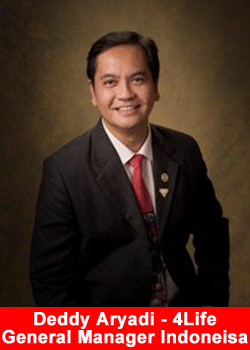 4Life Indonesia launched two new products recently at an event that attracted 250 4Life distributors to the 4Life office in Jakarta. Now available in Indonesia are 4Life Transfer Factor GluCoach, marketed with the tagline "Let's Get Balanced," and 4Life Transfer Factor Belle Vie, marketed with the tagline "Be Healthy, Be Beautiful."
The event was attended by Gold International Diamonds Dr. Eduard Hutabarat and Katharina Sihombing, Gold International Diamonds Mas Ryandi and Kenny Kanita, Gold International Diamonds Christin and Agus Soemarsono, and Gold International Diamonds Leo Gito Simbara Ujung and Desiree Hellene. Also in attendance were many 4Life Indonesia corporate employees including General Manager Deddy Aryadi.
The launch of a more modern and elegant packaging for 4Life Transfer Factor Chewable Tri-Factor Formula was also announced. Other event highlights included distributor recognition, a GluCoach and Belle Vie product training, and an inspiring Belle Vie testimonial by Perempuan Merah Putih — a group of female hikers who supplemented with 4Life Transfer Factor while climbing Mount Kilimanjaro.
Deddy Aryadi: "The launch of these new products in our market is a demonstration of 4Life's innovation and our continued commitment to support distributors."
About 4Life
4Life's leading group of doctors, scientists, and researchers continue to advance immune system science with innovations in product formulation, production standards, delivery methods, and more. Today, people in more than 50 countries enjoy the immune system support of 4Life products.
4Life has offices on five continents to serve a global network of independent distributors through science, success, and service.