Avon Continues To Struggle After CFO Resigns
September 11, 2014
By Tina Williams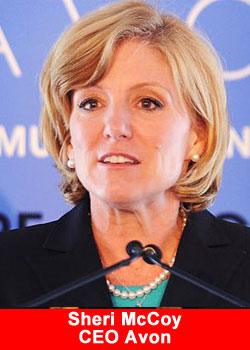 Avon's stock is falling Tuesday after its chief financial officer resigned to take a CFO job in another industry.
Late Monday Avon Products Inc., which has struggled to turn around its business, said that Kimberly Ross' resignation is effective on Oct. 2. Avon's vice president and corporate controller, Robert Loughran, will be interim CFO while the New York company searches for a permanent replacement.
Avon is the world's biggest direct seller of cosmetics, but its sales have been steadily declining. The company has reduced costs, cut thousands of jobs and left unprofitable markets to try to improve its business.
Ross, who joined Avon in 2011, leaves big shoes to fill, said Wendy Nicholson of Citi Investment Research in a client note. Ross helped sell jewelry company Silpada, exit weak markets and refinance the balance sheet, Nicholson said. But Avon still has a lot of work to do in its turnaround plan, she said, and that's a problem as it may take a while to hire a new CFO.
Avon's overhead costs seem still way too high, its internal controls/systems are still weak, its cash flow is still depressed and too many markets are still in disarray, she wrote.
The analyst cut Avon's rating to Neutral from Buy and lowered its price target to $15 from $18.
Still, Ross' exit doesn't necessarily suggest she left because of Avon's struggles, said Stifel Nicolaus' Mark Astrachan — it could just be a superior career opportunity for her. He kept a Buy rating and $18 price target.
Ross will be the CFO at oilfield services company Baker Hughes.
Shares of Avon declined 59 cents, or 4.3 percent, to $13.07 in morning trading. The stock had dropped 21 percent in 2014.
Originally Reported by: Bloomberg BusinessWeek