Herbalife's CEO Makes Statement To Hispanic Community
September 20, 2014
By Tina Williams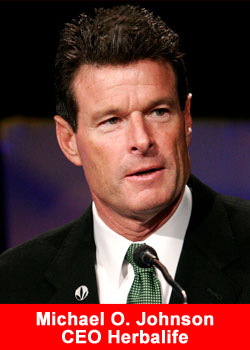 In honor of Hispanic Heritage Month (September 15 – October 15), Herbalife Chairman and Chief Executive Officer Michael O. Johnson released the following statement:
"We are proud to embrace Hispanic Heritage Month as an opportunity to recognize and appreciate the invaluable contributions Latinos have made – and continue to make – in the U.S.
"To mark this important occasion, Herbalife will highlight the efforts and successes of our own Hispanic community. Hundreds of thousands of Latino Herbalife members have embraced our products to help create healthy families all around the country. Each day, their work serves as a call to action: Hispanic families can enjoy a healthy, active lifestyle with exercise and smart food choices. Through their efforts, we are providing healthy, nutritious options that help combat some of the health disparities in the Latino community.
"Herbalife also honors the contributions of our many Hispanic employees. Our hard work requires a passionate, dedicated team. Herbalife relies on the counsel and guidance of our board of directors, including Maria Otero, and Richard H. Carmona, M.D. Our invaluable executive team includes Miguel Fernandez, Executive Vice President of the Americas and Global Distributor Operation; Ibi Fleming, Senior Vice President and Managing Director of North America; and Angela Arboleda, Vice President of Government and Community Affairs. We also count on the advice and training of our experts, including Rocio Medina, M.D., Vice President of Worldwide Nutrition Training.
"Throughout this month, we will use our social media and digital channels to shine a spotlight on our partnerships with leading Latino organizations and promote the benefits our Hispanic members are bringing to communities.
"We will continue working beside our Latino members to encourage stronger, healthier Hispanic families across the U.S."