Jeunesse Is No. 1 Fastest Growing DSA Company On The INC. 500
September 4, 2014
By Tina Williams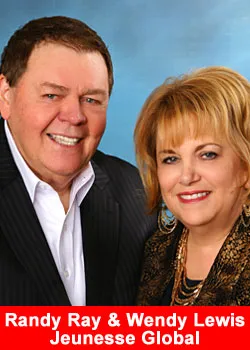 Jeunesse Global ranked at 258 on the prestigious Inc. 500 List, officially classifying it as the fastest growing Direct Selling Association company in America. Inc. 500|5000 is an exclusive list that gives a comprehensive look at the most important segment of the economy—America's independent entrepreneurs.
This list measures the three year revenue growth of 5,000 companies in the country, the first 500 being in the top ten percent. The 2014 Inc. 500 is the most competitive crop of companies in the list's history. Jeunesse is currently in the top five percent of rankings in America.
"Jeunesse has been narrowed down as one of the top 500 companies in America—and it is a tremendous milestone to be recognized in this category," says Co-Founder, Randy Ray, "Our goal has always been to double the company's annual sales with each coming year—a feat which is almost impossible—but it's something Jeunesse has achieved since its inception. Now that we're opening new markets in Russia, Ukraine, and Eastern Europe, I see us exceeding the considerable targets we've set for this year."
Jeunesse has delivered remarkable results. The company closed 2013 with a reported $224 million dollars in sales revenue.* Sales are up 125% year-to-date and over 38,000 Distributors joined Jeunesse in June alone. In July, Jeunesse ranked #46 on Direct Selling News' Global 100 List, and was categorized amongst the top direct selling companies in the world.
"This is the second time a company Randy and I have owned has made it to the Inc. 500 List. It's quite an honor for Jeunesse to be acknowledged as one of the fastest growing companies in America," adds Co-Founder, Wendy Lewis. "I'm proud to say that a lot of the credit goes to our family of distributors and staff who work so hard and who are all responsible for the growth of this company."
The Inc. 5000' s aggregate revenue is $211 billion, generating 505,000 jobs over the past three years. The average company on the list has achieved a staggering three-year growth of 516%. The annual Inc. 500 event honoring all companies on the list will be held from October 15 through 17, 2014 in Phoenix, Arizona. Speakers include some of the greatest entrepreneurs in the world, such as Michael Dell; Martha Stewart; host of the CNBC show, "The Profit," Marcus Lemonis; Container Store Founder and CEO, Kip Tindell; and Chobani Founder and CEO, Hamdi Ulukaya.
What surprises me, even though I know it's coming, is the sheer variety of the paths our entrepreneurs take to success, thematically reflecting how our economy has evolved," says Inc. President, Eric Schurenberg. "But what doesn't change is the fearsome creativity unleashed by American entrepreneurship."
*Jeunesse closed sales in 2013 with final revenues of $256 million. Figures provided to Inc. magazine were not inclusive of revenues of unconsolidated entities in the corporate structure.
About Inc. and the Inc. 500|5000
Founded in 1979 and acquired in 2005 by Mansueto Ventures, Inc. is the only major brand dedicated exclusively to owners and managers of growing private companies, with the aim to deliver real solutions for today's innovative company builders. Total monthly audience reach for the brand has grown significantly from 2,000,000 in 2010 to over 6,000,000 today.
The Inc. 500|5000 is a list of the fastest-growing private companies in the nation. Started in 1982, this prestigious list of the nation's most successful private companies has become the hallmark of entrepreneurial success. The Inc. 500 Conference & Awards Ceremony is an annual event that celebrates their remarkable achievements. The event also offers informative workshops, celebrated keynote speakers, and evening functions. For more information on Inc. and the Inc.
About Jeunesse
Jeunesse is a leading direct selling company devoted to encouraging its distributors to look and feel younger, earn more, and enjoy life. Company research focuses on adult stem cell technology, telomere support, DNA repair, and nutrigenomics. Products are made in the USA and are exclusively formulated for Jeunesse.
With a multi-lingual customer service, back office support team, global enrollment system, and in-house programming already in place, the company is fully operational in 32 offices around the world. Its distribution channels extend to over 100 countries. Jeunesse and the Jeunesse logo are registered trademarks of Jeunesse Global, LLC in the U.S. and/or other countries. For more information, please visit: www.jeunesseglobal.com.