MonaVie's Mynt Launches In Brazil Successfully
September 22, 2014
By Tina Williams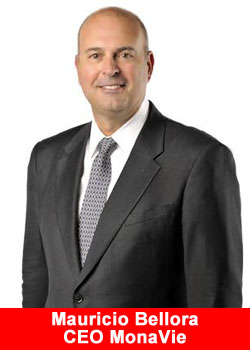 More than 4,000 hyped-up brand promoters and guests gathered at Citibank Hall in São Paulo for the launch of mynt™ in Brazil on Sunday, September 7, 2014.
Brazil mynt President Mauricio Patrocinio and Brazil mynt Marketing Manager Claudia Fernandes hosted the event like a late-night talk show. The program was divided in blocks based on the 4 main pillars of mynt: #myntfit,#myntmoments, #myntmind, and #myntlife. Several individuals were interviewed during each block with the mynt brand promoters recognized and rewarded throughout.
Guest speakers included President and CEO Mauricio Bellora, Chief Marketing Officer Paul Muehlmann, and mynt Director Brandon Carter. The crowd was also thrilled to hear from famous Brazil philosopher and author Mário Sérgio Cortella and popular nutritionist Giovana Guido, the personal trainer for soccer player Bruno Lopes.
What's more, new products were launched for mynt. The CORE Protein Shake—available soon—and our energy drink EMV Citrus Zero. Not only that, the traditional EMV will be completely rebranded and called EMV Acai. They also presented the new brand packaging for MX (tetrapack 330 ML) that will go live in the coming months.
Corporate and field leaders also shared momentous news and updates and inspiring stories to help mynt brand promoters grow their business. They launched a mynt kit, an exclusive prepaid shipping program, and more.
Several Attractions…
The event had special attractions, including mimes who interacted with the audience before the event, a band who played live on the stage, and D.J. Ricco who pumped up the crowd.
Key Quotes from Corporate Leaders
"We are giving you the chance to have a simpler and faster business that accommodates the market, with a vision set on sustainability." – Mauricio Bellora, President and CEO

"When people hear about mynt we want them to think about fantastic products, values, opportunities to make a business and an opportunity to learn, grow, and become a better person." – Paul Muehlmann, Chief Marketing Officer

"In mynt we will do three things: No. 1, we will do more good; No. 2, we will have more fun; No. 3, we will make money. mynt will make your dreams possible and become true." – Brandon Carter, director of mynt

"When we started at MonaVie some things were very important and the first thing was to be a company that does good things for the world." – Henry Marsh, Founder of MonaVie

"A mynter is a person who does the good. Our purpose is to make a more meaningful life for the greatest number of people." – Mauricio Patrocinio, President of mynt Brazil

"mynt is a different and inclusive way to do business. It is to include people to our lifestyle and quality of life." – Cláudia Fernandes, Marketing Manager
The MORE Project
"Millions of families and people have already been impacted by the MORE Project. Through your sponsorship, you not only are donating money to the MORE Project, but you also can be involved with the child you sponsored." – Estevao Ponce, Executive Director of MORE Project.
The teenagers of MORE Project performed a presentation that left all the audience delighted.
What Key Field Leaders had to Say
"MonaVie provided freedom in our lives and blessed us with opportunities that could not have been possible any other way." – Scott Olsen, Imperial Black Diamond

"The best thing is to do something that you can be proud about. Let's gather friends to build history…a good history." – Caio Carneiro, Presidential Black Diamond

"Do not look to the side, do not look back, stay focused on your goal. Help the greatest number of people to have success then your success will be a consequence of it." – Marcus Clemente, Presidential Black Diamond

"I have been studying mynt hard. The business is fantastic. Certainly we will get to the top." – Marcelo Serakides, Royal Black Diamond

"This union exists only because we have a very strong connection within this business: to be the number one Direct Sales company." – Fernão Battistoni, Royal Black Diamond

"How your business is going to be seen through the world depends solely on you." – Beto Carvalho, Black Diamond

"Our main focus is to help more and more people in order to push them up to achieve their goals." – Rodrigo Berkembrock, Black Diamond
Growing Leadership in Brazil
New Rubies
Devlin Maxwell & André Cruz
Elisângela & Fábio Suzuki
Emerson Radamés & Pollyanne Alencar
Guilherme Barros & Manoela Castro
Juvencio & Soraia Machado
Luna Mori
Marcos & Aline Simões
Rene Bouckaert
New Emeralds
André Russo & Nayara Carvalho
Guilherme Lautenschlager & Carol Vilela
Renata Mayumi & Paulo Su
New Blue Diamond
Jorge Everton & Karla Guimarães
Purple Diamond
Francisco Sosa & Daniela Borba
Founders Club
The members of Founders Club received priority seating at the event…they were right on the stage the whole time! They could watch the whole show form the best seat in the hose and in the end they were awarded with incredible prizes!
The Millionaire Club
We added two more new members to the Millionaire Club in Brazil. Congratulations to Purple Diamond Executives Francisco Sosa and Daniela Borba and Blue Diamond Executive Fabiana Sawaya.
Ending with a Blast
Confetti and balloons rained down at the close of the first mynt Super Regional event and the party got started with the Viva Noite Band.