Nerium's Linda Lindsey Discusses Driving Change With Proactive Choices
September 22, 2014
By Nicole Dunkley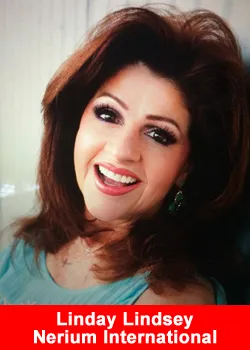 Linda Lindsey believes people are responsible for their own choices. Life and her career in direct selling taught her it is possible to inoculate yourself from the negativity of others, given the right kind of support.
She learned how to ditch reactive behaviors in favor of proactive ones, and now as a 3-Star National Marketing Director at Nerium International, she helps others do the same. "All people have challenges and life is one of our biggest competitors. You have a choice. Everyone has a choice," she says.
It's Linda's job to share the Nerium vision and help people work through frustrations and challenges. In fact, she sees that as her life's purpose and it's a big reason Linda finds her Nerium International business immensely fulfilling. "We are all here on Earth, not just to take up space, but to fulfill a purpose. When I get that opportunity to invest in another person's life, it's just so incredibly rewarding," Linda says.
As Nerium International expands the company's global footprint, Linda eagerly shares her enthusiasm for the product and business opportunity with people who need a life-change. "It just makes me so excited, knowing what Nerium can do for them. We're going to change many, many lives," she says.
"We are so blessed in America. We have so many resources and the level of income and things like that are often ridiculous compared to other countries. To be able to go into another country and offer a single mom, who doesn't have a place to live, the opportunity to make $10,000 a year, that will change her life and her children's lives! That right there is a part of our purpose on this planet and it's so exciting."
You may contact Linda through email and Facebook. Email: [email protected] Facebook: Linda Lindsey
About Nerium International
Nerium International, LLC, based in Addison, Texas, launched in the U.S. in 2011 breaking multiple industry growth records by marketing scientifically validated skincare products that generate age-defying results.
Expert relationship marketers Mark Smith and Tammy Smith have been a powerful recruiting team since Nerium's inception. Decades of direct selling savvy in teambuilding and sales combined with Nerium's break-through patented skincare formulations and systematic business growth have allowed Mark and Tammy to become the #1 income earners in Nerium International. The Smith's agree that what attracts incredible people to Nerium is the fact that the company focuses on personal development, living a life of contribution and building a culture with class.