Thomas Nordlund – SiteTalk – OPN Field Leader Passed Away
September 11, 2014
By Team Business For Home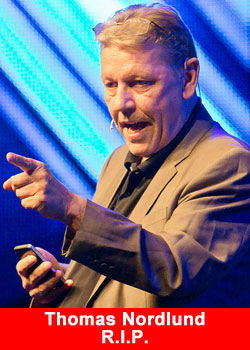 Thomas Nordlund was one of the major field leaders in Site Talk – OPN and the majortiy of the members has been in his team.
In the Top MLM Networker Poll 2013 he ended on the first place together with his son Kenny Nordlund with 20,000+ votes. He mentored thousands of people around the world.
SiteTalk management stated in 2012:
During the past years we have had enormous help from Kenny and Thomas Nordlund in their roles as Network Directors.
This has, however, come at the expense of other areas, and we are now pleased to announce that these areas will again be the focus of the company.
The amount of hours Kenny and Thomas have put into their roles as network directors cannot be calculated, but we do know that very few people would have been able to do it.
Thomas and Kenny will both take a step back from the management of the company in order to truly focus on the building of the network. They have requested this change for a while, and we have now agreed that they will do more in the next phase of the company in their new roles. It is very important that everyone understands how relevant they are for the company in their "new" roles as networkers.
We cannot put into words how much they have done for the company, nor how much they will continue to mean. It is our firm belief that they will continue to build our company and the network in an amazing way. Both are true network marketers. It is in their blood and in their souls, and with their great energy they will have great impact on the next phase of our growth.

Once again, we thank Thomas and Kenny for all their great work so far! Both will be spending even more time traveling the world building OPN and teaching the principles of The Opportunity Network in an amazing way.