Youngevity International Invests $1.1 M To Improve Global Headquarters
September 10, 2014
By Nicole Dunkley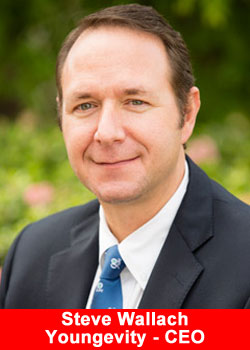 Youngevity International, Inc., a global direct marketer of nutritional and lifestyle products and also a vertically-integrated producer of gourmet coffees for the commercial, retail and direct sales channels, announced today that it has made an investment of $1.1 million to improve its company-owned 59,000 square foot corporate headquarters located in Chula Vista, California.
The improvements to the Youngevity headquarters include a complete reconfiguration of the distribution center layout, which doubles the amount of pallet storage locations and shipping lanes to maximize efficiency and productivity. The increased storage capacity in the distribution center was attributed to the purchase of two technologically advanced Raymond forklifts that optimize warehouse throughput. Also, the warehouse was updated with new energy-efficient lighting and insulation, additional circulation fans were installed to increase employee comfort, and the shipping and purchasing department offices were expanded.
Youngevity has improved the appearance of its headquarters with a new water-efficient landscape to receive outdoor water conservation rebates from the City of San Diego. The entrance lobby also was remodeled to be more inviting and enhanced with a new coffee/beverage bar.
In addition, the Youngevity customer service department and will-call center were expanded to accommodate double the amount of staff to handle higher customer traffic volumes and maintain high service levels. Also, a new state of the art research lab was built to facilitate our product development and additional testing equipment purchased for the Company's expanding product lines.
"We expect this strategic investment to optimize our operations and we are well positioned to meet future business needs for our growing Company," said Steve Wallach, CEO of Youngevity. "UPS helped design our updated warehouse space to improve the workflow and to maximize efficiency and productivity. We have increased our warehouse storage and throughput capacity by 100% to meet higher customer and global shipment product demands."
"The improvements to our existing facility have enhanced our warehouse logistic capabilities and will enable us to support our US and international growth," said Dave Briskie, CFO of Youngevity. "With top-line revenue maintaining a 50% growth rate and with the company eclipsing its first million dollar day it is critical that our distribution systems keep pace with our expected revenue growth."
About Youngevity International, Inc.
Youngevity International Inc. is a fast-growing, innovative, multi-dimensional company that offers a wide range of consumer products and services, primarily through person-to-person selling relationships that comprise a network of networks. The Company also is a vertically-integrated producer of the finest coffees for the commercial, retail and direct sales channels. The Company was formed after the merger of Youngevity Essential Life Sciences and Javalution Coffee Company in the summer of 2011. Formerly known as AL International, Inc., the Company changed its name to Youngevity International, Inc. in July 2013.