4Life Holds First-Ever International Convention In Asia
October 16, 2014
By Nicole Dunkley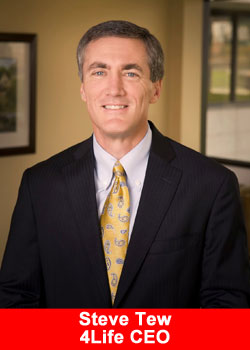 Over the weekend, thousands of 4Life distributors gathered at the Sunway Pyramid Convention Center in Kuala Lumpur, Malaysia for 4Life Asia Convention 2014: Live Your Dreams. Attendees represented 21 countries around the world.
Event highlights included a state of the company address by President and CEO Steve Tew, the product launches of 4Life Transfer Factor® RioVida Stix® Tri-Factor® Formula and 4Life® Rice Brand Plus Capsules, recognition of new Platinum International Diamonds Dr. Jase and Jinsun Khyeam from South Korea and Sheri Din from Singapore, and business training from numerous 4Life entrepreneurs, including Platinum International Diamonds Dave and Gabriela Daughtrey from California, USA, Jeff and Michelle Altgilbers from Tennessee, USA, and Sadik Din and Hasnimah from Singapore.
In addition, attendees heard from keynote speaker Kyle Maynard, an ESPY (Excellence in Sports Performance Yearly) award-winning mixed martial arts athlete known for becoming the first quadruple amputee to ascend Mount Kilimanjaro without the aid of prosthetics. Chief Scientific Officer Chris Lockwood, Ph.D., CSCS also presented an address and announced the availability of 4Life Transfer Factor Renuvo® in Singapore.
Steve Tew: "4Life's first-ever Asia Convention was a great success. It's amazing to see how the dream to improve lives that Founders David and Bianca Lisonbee launched the company with is being achieved throughout Southeast Asia and the world."
4Life has offices on five continents to serve a global network of independent distributors through science, success, and service.