ASEA Announces Mid-Year Accomplishments In Public Address
October 6, 2014
By Tina Williams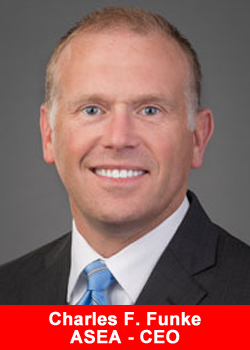 In a recent public address on the ASEA blog, Charles Funke, CEO, announced their mid-year accomplishments;
We value each of you and recognize that we have the best Associate partners in our industry, and this is evidenced by some impressive accomplishments you have achieved since January.
We have witnessed unprecedented rank advancements this year—more than 350 of you have advanced to the bronze executive rank or above just since our international convention in May.
Our 2014 Amplify convention was sold out, and we registered the highest convention attendance in ASEA history. At convention, we launched our groundbreaking RENU 28 skin health product and since then, you have shared more than 200,000 individual tubes of this incredible product.
At the same time, sales of ASEA continue to increase month over month. During the summer months when sales in our industry typically lag, our sales have continued to surge and have increased by 35% since April. Weekly sales records have been broken again and again throughout the year.
CORPORATE TEAM STRENGTHENED
I am also excited to report that we have remained focused on our commitment to strengthen our corporate team so that we can continue to support our thriving global growth. Since January, we have recruited top talent to fill positions including:
• Managing Director of Western Europe
• Regional Sales Manager in Europe
• Senior Vice President of Sales
• Regional Sales Director of Latin Markets
• Corporate Legal Counsel
• Senior Public Relations Manager
• Digital Marketing Manager
• Creative Director
• Financial Controller
• Numerous Associate Support and Production Line personnel
• Expanded sales and recognition teams to better support and recognize your efforts
POST CONVENTION TOURS
Since our May convention, we have enjoyed seeing many of you during the North America Post-Convention Tour and the Europe Post-Convention Tour.
During our North American Tour:
• More than 3,000 Associates attended meetings in 28 cities.
• We launched the new Peak Performance Program to help you focus on the activities that will help you advance your businesses.
• And together, we raised tens of thousands of dollars for charities thanks to your generosity.
During our European Tour:
• More than 4,000 of you attended meetings in 9 countries in 8 days.
• During these meetings, we sold out of RENU 28 at nearly every location.
• An interesting side note: Our meeting in Romania was held in the Palace of the Parliament, a prestigious location that is the world's largest civilian building with an administrative function, visible from the moon.
• Perhaps our meeting there is symbolic of the fact that ASEA is being recognized around the globe as one of the fastest growing network marketing companies today!
NEW MARKET OPENINGS
Right before convention we expanded our operations in Europe by opening Portugal, Slovakia, and the Czech Republic. We experienced our most recent business milestone as Australia and New Zealand were formally opened for business and our Associates in those markets began to build businesses with RENU 28.
We are excited to have highly respected Australian TV personality Sally Obermeder and international skin care expert Ingrid Seaburn as brand advocates in these markets.
MANUFACTURING FACILITY ENHANCEMENTS
I'd like to end by highlighting the enhancements we have made to our manufacturing facilities to meet the production needs for RENU 28:
The mixing and tube filling equipment was custom manufactured for the production of RENU 28. With a top speed of 65 tubes filled per minute, it provides us with high-speed filling to meet the growing worldwide demands of this amazing product with over 320,000 tubes filled in just the last two months of production.
Because of the unique formulation of RENU 28, many special considerations are in place to ensure that each batch of RENU 28 is mixed and filled to exact specifications. We have equipped the mixing room with a special air filtration system and strict quality assurance measures during this stage of production. Each step must be carefully followed, and all aspects of the mixing of RENU 28 are controlled and verified by our Quality Assurance team. Once the product is verified and tested to meet all established standards, RENU 28 can be filled into our custom extruded tubes.
We expect to conclude 2014 as the most successful year in company history and look forward to continued rank advancements throughout the year. We are excited to celebrate your successes at convention next year in Salt Lake City as we thank Verdis and celebrate his role in bringing ASEA to the world. We will continue to grow and expand as we partner with each of you to take our life-changing products and business opportunity to the world.