Global 1 Entertainment Announces The Winners Of Contests And Promotions
October 17, 2014
By Team Business For Home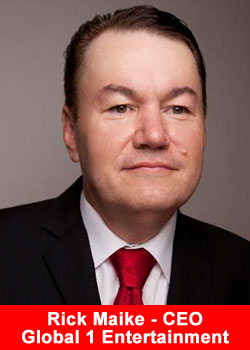 Global 1 Entertainment, also known as G1E, www.g1e.com, is proud to announce the winners of two company-wide contests and promotions. G1E is home of top earners as Dave and Faraday Manning and Petya and Tim Edwards among many others.
50 players on Global 1 Entertainment's Fantasy Sports site took home a total of $5,000 in cash from last week's scoring totals. What is known as the G1E 5000, New Jersey's Mark Brudney took the top prize of $2,500! Mark and the other players entered the contest with a $25 entry fee. Other players all across America participated and 49 others took home extra cash for being a part of G1E Fantasy Sports, G1E 5000 contest.
Every week, a new G1E 5000 contest is being offered and more and more players are beginning to take part in one of the most entertaining, and legal games online in the sports world. Players win based on the statistics from each week's NFL games. Players pick a quarterback, two running backs, two wide receivers, a tight end, a kicker, and a defensive squad. Players don't have to worry about a salary cap and they get to pick new lineups each week. They can also have multiple new lineups every week.
Getting involved in the Fantasy Sports arena is a first for a network marketing company. Fantasy sports is a $15 billion industry. Most of that is in the United States with the NFL. According to the Fantasy Sports Trade Association, 32 Million Americans play fantasy sports. They spend more than $400 per person. And it is only growing outside the US with European football. Since G1E is a worldwide global entertainment company, there is only an upside to involvement in this industry.
Interested individuals can create a free account at www.g1efantasysports.com. You don't have to be a G1E member to play. However, you must register through a G1E member to play G1E Fantasy Sports as a customer, so that the referrer can receive credit.
Moving on to a little fun in the sun, G1E Escapes is proud to send five deserving Global 1 Entertainment members on a week-long, all-inclusive vacation to Punta Cana, Dominican Republic at the Hard Rock Resort. The winners were the top five producers to bring in new VIP packages for the month of September.
The winners are: Marty Muns, of North Carolina; Robert Burnett, from California; Ava Randall, of Australia; Ralph Greenham, of Australia; and Raul Feebles, of Mexico. All of the winners will enjoy the fruits of their labor this November on the Sunny Beaches of Punta Cana. Congrats to all!
Global 1 Entertainment will be announcing their next G1E Escapes promotion to Hawaii soon for another luxury vacation trip that will happen in February.
G1E Escapes is a travel platform that offers luxury travel at lower costs. Travel services from G1E Escapes are only available through G1E, Global 1 Entertainment, members, but you don't have to be a member to enjoy these travel opportunities. Just contact a G1E member for access to G1E Escapes.
G1E's entry into the travel and tourism market makes sense. Travel and tourism are a $6.5 trillion dollar industry worldwide and those numbers have jumped 50% over the past ten years.
G1E, Global 1 Entertainment, also believes that travel and tourism is only going to grow since developing countries such as China now have wealthier populations and want to explore other cultures as well. China, Germany, and the United States, are the biggest spenders on travel. That includes the hotel industry that is a $500 billion dollar market – with 1/3 of those revenues happening in the United States.
This service is available to G1E members, who can promote this fantastic price savings opportunity to those who travel frequently or who are looking to vacation. This service provides a travel concierge to help customers make plans, and discounts on hotel, car rental, and airfare to amazing locations globally.
Rick Maike, Global 1 Entertainment's CEO said,
"This is an amazing time period in our company. Being able to provide our hard working representatives with exclusive price savings on travel and the ability to win cash on a steadily growing, rock solid sports entertainment game, makes it more enjoyable for everyone involved. Global 1 Entertainment has a great group of people in its core. We believe the future for G1E is very bright."
G1E, or Global 1 Entertainment, is a worldwide, online entertainment company within the MLM space, headquartered in the United States and Hong Kong. There are over 17,000 members in over 40 countries worldwide. The company's members sell a social media and communication platform called G1E Touch, social games, fantasy sports, and luxury travel. For more information, go to www.G1E.com.