Herbalife Will Be Exonerated After FTC Probe
October 25, 2014
By Tina Williams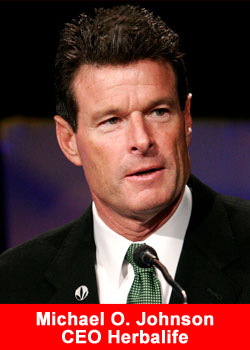 Herbalife Ltd. (HLF), the nutrition-product maker facing allegations that it runs a pyramid scheme, expects to be cleared of wrongdoing when regulators complete an investigation of the company.
"We anticipate at the end of the day we will be exonerated," Chief Financial Officer John Desimone said in an interview. "We will wait to say anything more until the investigation is complete."
The U.S. Federal Trade Commission is probing the Los Angeles-based maker of weight-loss shakes and nutritional supplements following accusations by billionaire hedge-fund manager Bill Ackmanthat the company misleads distributors, misrepresents sales figures and sells a commodity product at inflated prices. The Federal Bureau of Investigation also opened an investigation and several states are looking into complaints.
"We will respect the integrity of the investigations," Desimone said. "We will fully cooperate and we have complete faith in our members and our business model."
With a $1 billion bet against Herbalife, Ackman's Pershing Square Capital Management LP is trying to profit from a drop in the shares. He's been campaigning to shut down the company since December 2012, saying it exploits distributors rather than selling products to consumers.
Looking Glass
Ackman's latest salvo came yesterday. Christine Richard, a Pershing-hired researcher who first brought Herbalife to Ackman's attention, posted an article on investing website Seeking Alpha saying that Herbalife overvalued its bolivar sales in Venezuela amid currency devaluation, allowing the company to artificially inflate revenue and profit.
Richard said the company has used an exchange rate of 10.7 bolivars against the U.S. dollar since March, while the black market rate for bolivars is closer to 100. Should Herbalife choose to shift to a weaker 50-bolivar rate, also allowed by the government, the company would likely be forced to take an asset writedown, she said.
Richard's investigation purported to show that the currency devaluation and Herbalife's policy of paying incentives in U.S. dollars created an impetus for Venezuelan distributors to buy more product and take it outside the country. Once abroad, these distributors reaped the arbitrage benefit and higher profit margins, Richard wrote.
True Demand
Herbalife's Venezuela growth, therefore, wasn't a reflection of true demand, she said. What's more, the distributors could build sales organizations in other countries more cheaply and use that appearance of success as bait to recruit new participants, Richard wrote.
Desimone pushed back against this claim. Declining sales in Venezuela in the first six months of this year, driven by price increases, argue against Richard's thesis that distributors there are buying excess product to sell elsewhere, he said.
Richard's report is "extremely inaccurate in many respects" and the profit she attributed to Venezuela is "significantly overstated," Desimone said in the interview.
Accounting rules and "facts and circumstances" led Herbalife to use the 10.7 bolivar exchange rate, the same as the majority of other companies, Desimone said.
Reported by Bloomberg