Trévo Corporate Office Finds New Home
October 31, 2014
By Nicole Dunkley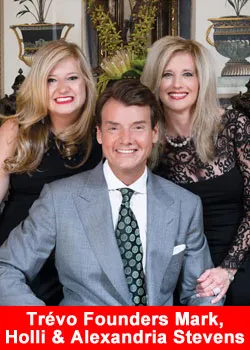 As Trévo's product sales and network marketing figures continue to trend upward, the company itself is also moving up – literally.
Trévo has officially outgrown the south Oklahoma City office it has occupied since 2010, and is heading east down Interstate 44 to Valliance Bank Tower, where it will call the entire 18th floor home.
"Obviously this building holds a special place in the hearts of the people who started with Trévo here, but we are thrilled about the move," Trévo CEO Mark Stevens said. "As our operations have expanded, so has our corporate staff, and we simply outgrew the walls at our current location."
Located at 1601 Northwest Expressway, Valliance Bank tower is the tallest building in Oklahoma City's Northwest Business District. With 22 floors offering a 360-degree view of the city, the tower is the most prominent landmark in the area.
Stevens prides himself on being a high-energy CEO with a team that has taken that same approach to business, so a move to one of the busiest and most fast-paced business districts in Oklahoma City makes perfect sense for Trévo. The tower is located off the interstate just walking distance from 50 Penn Place, an upscale galleria-style development, Penn Square Mall, and the luxurious and exclusive Nichols Hills housing district.
The 18th-floor office will provide a significant upgrade in facilities and space for the corporate team, and will include plenty of space for future growth.
"As a growing company, we are committed to doing what is necessary to operate as efficiently and aggressively as possible," Stevens said. "Part of that commitment is making sure that we have optimal space and resources, which is why we are so excited about the upcoming move!"
ABOUT TRÉVO
Trévo's Founders are Mark and Holli Stevens who have a proven track record of over 16 years as owners of a successful network marketing company. Mark and Holli have also been on the "other side of the table" as independent representatives, building organizations with tens of thousands of members. This dynamic duo also possess nearly four decades of combined business ownership expertise.
Trévo's proprietary blend of over 174 premium nutraceuticals, including maqui and acai berries, mangosteen, amalaki fruit, gotu kola, ashwagandha and a cornucopia of other fabulous nutraceuticals. In fact, Trévo has developed the only nutritional supplement in the world to combine and harness the power of such a remarkable array of vitamins, minerals, "supergreens," antioxidant-packed fruits and vegetables, coral calcium, and herbs from around the globe.
Based in Oklahoma, Trévo LLC is powered by a global network of many thousands of energetic and excited Life and Health Coaches.