Vemma Affiliates' Inspiring Film Named Best Feature
October 26, 2014
By Tina Williams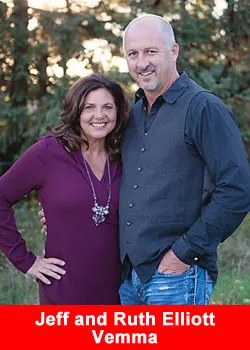 "Hoovey," an inspirational film set to release in January 2015, captures the true story of Vemma Affiliates Jeff and Ruth Elliott (portrayed by Patrick Warburton and Lauren Holly) and their family as they work their way through tragedy.
The film was selected out of more than 100 entries as Best Feature Film at the October 10–12 Sunscreen West Film Festival, supported by The Academy of Motion Picture Arts and Sciences.
When promising high school basketball player Eric "Hoovey" Elliott suffers a brain tumor, the Elliott family must join forces to overcome seemingly insurmountable obstacles to triumph in the face of adversity.
The movie is the story of Hoovey's miraculous comeback after the potentially fatal illness threatened everything.
"Everyone at some point in their life is going to go through something; it's inevitable," explains author Jeff Elliott, whose self-published book, Rebounding from Death's Door, was the inspiration for the screenplay.

"You can't control many things that might happen to you, but you can control your attitude. That's a choice you get to make."
The Elliotts describe their home-based Vemma affiliate business as a catalyst for the family's emotional and financial recovery. The company is featured in the movie during a reenactment of the speech Ruth Elliott gave at Vemma's 2013 Convention addressing their rise to financial freedom after having to literally "sell the farm."
https://www.youtube.com/watch?v=nyVHmW7ehJA
Written by Howard Klausner ("Space Cowboys") and directed by Dean McNamara ("Soul Surfer"), "Hoovey" is a story of faith, love, hope and family. The film will be shown at HD-ready facilities across the U.S. during its January release.
Cast:
Jeff Elliott: Patrick Warburton (Seinfeld, Family Guy)
Ruth Elliott: Lauren Holly (Dumb & Dumber)
Hoovey: Cody Linley (Hannah Montana)
Jen Elliott: Alyson Stoner (Cheaper by the Dozen)
"Hoovey" has been picked up for distribution by EchoLight Studios. To bring Hoovey' to your community from January 31st to March 31st , go to EchoLightCinemas.com and click on Cinemas.
Jeff and Ruth Elliot are among the top income earners with Vemma Nutrition Company.
About Vemma
Founded in 2004 by BK Boreyko and his two sisters, Karen and Lauren, Vemma Nutrition Company enjoyed $100+ million growth last year as one of the premier industry leaders specializing in premium liquid nutrition.
Every month, thousands of new customers experience the positive difference of the clinically studied Vemma Formula. The Vemma brands include the clinically studied Verve® healthy energy drink and Vemma Bod-e®, a weight loss line. Vemma is headquartered in Tempe, Arizona, and distributes its products through global affiliate marketing. For more information, please visit Vemma.com.