Visalus' GJ Reynolds Talks About Leadership
October 1, 2014
By Tina Williams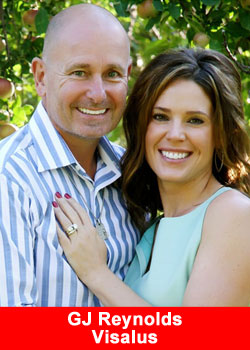 GJ Reynolds has been with ViSalus long enough to witness firsthand how everything rises and falls on leadership. Throughout the past 9 years, this Vi 5-Star Ambassador has seen the good and the ugly that can come from leadership, or lack thereof. This insight has enabled GJ along with his wife, Alita, to build a strong team of leaders from the inside out.
Of course, one might think that after almost a decade of being a top industry veteran and a Vi Millionaire who has transformed thousands of lives, GJ would want to take his foot off the entrepreneurial pedal and cruise a bit. But talk to GJ for even a minute, and you'll discover that he has no intention of standing still. In fact, GJ would tell you he is challenging himself every day, and is actively leading by example to show what it means to truly live and promote the Vi Life—with no wavering, no noise, no excuses.
Vi: What's different between where Vi was and where they are today in terms of a leadership culture?
GJ: One of the reasons why we as a company rose so high in 2010 was because of our core leadership and values. Then, we started getting away from that. People hit their lid, and there were some false leaders. Strong leadership is the key to the fundamental success of where we're going, and this year I see such a commitment to this unlike ever before. We now have both a solid business model and culture, and I'm excited for what the future holds for us.
Vi: Many of Vi's top leaders are being mentored by John C. Maxwell as part of the Leadership & Influence Development (LID) program. What changes are you seeing already?
GJ: We are doing leadership training both at corporate and in the Vi Community, and I'm seeing such a common bond around our shared vision and mission. We're congruent and aligned with this, and we now know the steps to achieve it. When we all understand and implement those steps together, it creates a synergy and minimizes the wavering, which then creates the flow… and that's when good things happen naturally. We're building this together as a community. I see it, and I feel it. We as leaders need to do an even better job of equipping our people and working together. I always tell my team that we can control three things: our thoughts, our words, and our actions. Throughout the years in this industry, I've seen that the people who struggle the most are those who attempt to control the things they are unable to control. Part of equipping them is helping them to see what they are able to control, and then giving them the insight and tools to do that. And, this is what I feel we are doing right now as a company.
Vi: What are some ways you're communicating that while building your team?
GJ: We do a monthly Google hangout with the people who are seated at the LID table and discuss the primary takeaways. We also do an accountability call 6 days a week (10 – 30 minutes), and we talk about our successes and our failures so that we are able to learn from them. We share the positives, of course, and I have found that it's very powerful when we also share the negatives, because we've all faced difficult times in our business. It's important to realize our shared experiences. When you feel alone, you give up. So, we always talk together about our challenges and how we are able to apply what we learn to our personal and professional lives. Next month I'm starting a Google hangout where anybody is able to participate, in order to start reproducing leaders as early as possible.
Vi: You're a great example of what it means to live and promote The Challenge. How has Vi impacted your life?
It's impacted me and my family in incredible ways, and I have an amazing Vi Life. The most profound, of course, was meeting Alita through this company. People call us a Vi-Love Couple. I strive to daily live our 3 pillars of Life, Health and Prosperity, and I continually challenge myself and work towards goals. Whenever I share my Vi story with new people, I always start with my 'Before' and 'After' pictures of my physical transformation. It's important they know that I live what I promote. I'm currently attempting to break the World Record for the fastest run on a treadmill. I also love sharing transformation stories on the radio network I own: the Simply G Media Network. And even though I've been with Vi for so many years and have done so much, I feel like I'm just getting started. For me, I'm 'all in' with total commitment and laser focus…and moving forward full speed ahead.